Description of Destiny 2 - Digital Deluxe Edition
Buy Destiny 2 - Digital Deluxe Edition as a Battle.net Key.
"Biggest shooter of the year" - Rolling Stone's Glixel
"It's one of the best looking shooters ever" - PC World
"A Technical Marvel on PC" - PC Gamer
Best PC Game of E3 2017 - Game Critics Awards
---
Exclusive to PC, Destiny 2 will include native 4K resolution support, uncapped framerate, an adjustable field of view, support for ultra-wide/special monitor configurations, and more.
Get the ultimate Destiny 2 experience with the Digital Deluxe Edition. Includes a copy of Destiny 2, premium digital content, and the Expansion Pass† to continue your Guardian's legend.
The Destiny 2 Expansion Pass grants access to both Expansion I (Curse of Osiris) and Expansion II (Warmind). Both expansions feature an all-new storyline featuring new characters and villains. Complete Missions and Adventures spanning newly discovered destinations. Play new cooperative activities and compete in new multiplayer arenas. Earn and wield a powerful arsenal of new weapons, armor, and gear.
Includes:
Destiny 2 Base Game (Digital Download)
Destiny 2 Expansion Pass (Curse of Osiris + Warmind)
Premium digital content:
Legendary Sword
Legendary Player Emote
Cabal Empire Themed Emblem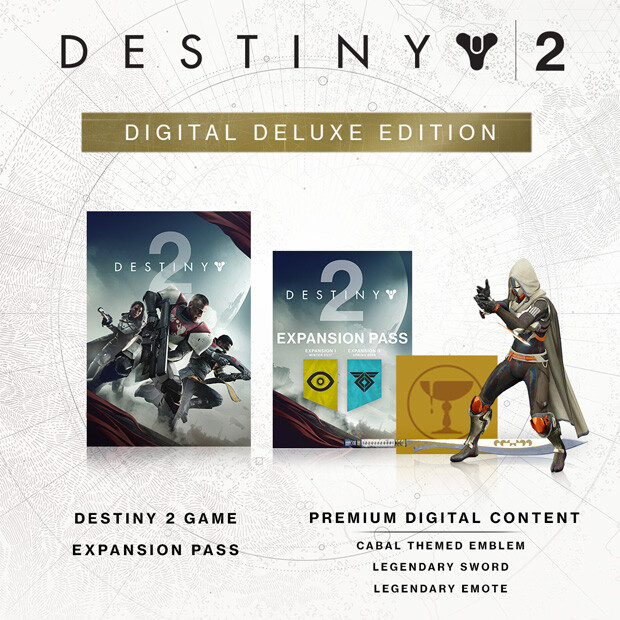 About the game:
From the makers of the acclaimed hit game Destiny, comes the much-anticipated sequel. An action shooter that takes you on an epic journey across the solar system.
Humanity's last safe city has fallen to an overwhelming invasion force, led by Ghaul, the imposing commander of the brutal Red Legion. He has stripped the city's Guardians of their power, and forced the survivors to flee. You will venture to mysterious, unexplored worlds of our solar system to discover an arsenal of weapons and devastating new combat abilities. To defeat the Red Legion and confront Ghaul, you must reunite humanity's scattered heroes, stand together, and fight back to reclaim our home.
Gameplay Features:
Rich cinematic story campaign.
Multiple cooperative game modes for epic, social fun.
Intense 4v4 competitive multiplayer matches, including 5 different PVP modes.
Expansive, never-before-seen worlds and spaces to explore.
Customize your character's weapons and armor with an all-new array of gear.
Discover Lost Sectors, complete new Adventure missions, or rally to Public Events with other Guardians.
Introducing a brand new Guided Games system that helps players find like-minded groups to experience Destiny 2's most challenging activities, like the Raid.
read more…