25 July, 2023 – CraigB

GP Team
Check out 13 minutes of Armored Core 6 Gameplay Footage!
Step into the world of Armored Core next month when Armored Core 6 Fires of Rubicon launches on August 25th. Feast your eyes on 13 minutes of new gameplay footage while you wait!
From Software are by no means a small developer, having worked on the stunning 2022 Game of the Year Elden Ring and they're set to release another blockbuster action game with the launch of Armored Core 6 Fires of Rubicon next month on August 25th.
It's been 11 years since Armored Core 5 launched on the PlayStation 3 and Xbox 360 all the way back in 2012, and now the series makes an explosive return. Armored Core 6 is a Mech Action game that takes place on Rubicon 3, where humanity has found a new energy source that could increase their technological capabilities substantially.
Players will be able to customise their Armored Core Mechs with a variety of weapons and parts at their disposal, with up to 4 weapon slots available to the pilot. Sprawling multi-layered levels will allow players to take advantage of their Mech abilities, such as the assault boost - which is used in both combat and movement. Of course there's more to the game than just shooting enemies, as objectives may have you destroying parts of a structure or something else. There's also missions where ally NPCs help you out at certain points, giving you extra firepower for those tougher missions.
Take a look at over 13 minutes of gameplay footage now while you wait for release and pre-order today!
ARMORED CORE VI FIRES OF RUBICON Pre-order Bonus
Pre-order ARMORED CORE VI FIRES OF RUBICON today on Gamesplanet to save 10% off and secure the following bonuses:
MELANDER C3 G13 Special Customization "TENDERFOOT"
MELANDER C3 parts set (early unlock*)
Emblem (early unlock*)
Exclusive AC Decal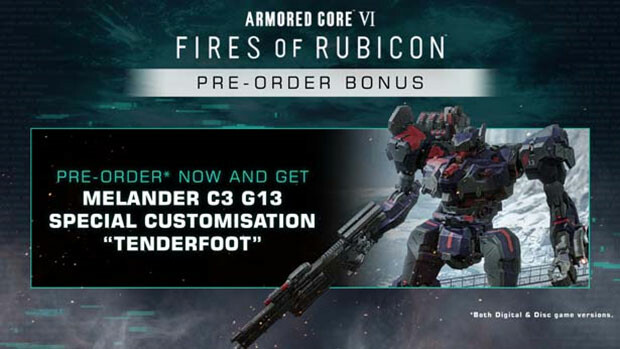 *Early Unlock: The parts set and the emblem can also be obtained by progressing through the game.