19 August, 2019 – CraigB

GP Team
Borderlands 3: Guide to the Borderlands Gameplay Video
Travel the stars and visit new planets next month when Borderlands 3 drops on September 13th. Before you can get your Vault Hunter shoes on, a brand new gameplay guide video from 2k Games and Gearbox has been released that shows us what awaits us. Lilith and the Crimson Raiders' will need your help in putting a stop to Children of the Vault Cult, which is run by the ruthless Calypso Twins. Players will be able to pick from one of 4 vault hunters, as either Moze the Gunner, Amara the Siren, FL4K the Beastmaster or Zane the Operative - each of which will have their own skills and abilities at their disposal. Become even more powerful by adding points to Skill trees and unlock new skills for each Vault Hunter.
Play solo or team up with others with local split-screen or online co-op and take on the Borderlands your way. Need guns? Borderlands 3 continues the trend of previous games with a bazillion guns for you to find by completing quests, finding them as drops in the world by defeating enemies or by opening chests. Guns come in various colours, signifying their rarity and may have special abilities attached to them. Plus, for the first tine in the series, Guns will also have secondary fire abilities that adds even more firepower to your arsenal.
You'll need the firepower to take on the deadly creatures that each world has to offer, from Spiderants to Dinosaurs - all wanting to take have a nice Vault Hunter meal. See what awaits with the new gameplay trailer while you wait!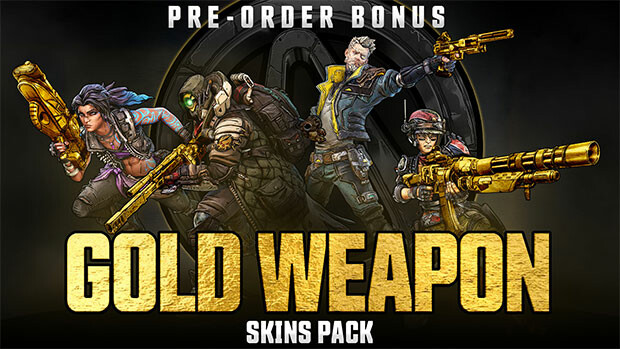 Borderlands 3 launches on September 13th 2019 and you can pre-order the game in three different editions at Gamesplanet (Official Partner of 2k Games) as Epic Games Keys. Those who pre-order the game will not only get the Gold Skins Package, but also Gamesplanet Wallet Cashback as a bonus! Take a look at our Version Comparison to break down what the content of the Standard, Deluxe and Super Deluxe Edition contains with a handy overview.