07 September, 2021 – CraigB

GP Team
Bus Simulator 21: See the best part of the series through Europe and the USA - Trailer
Go on a ride with Bus Simulator 21, which is now available. Includes a high-gloss finish, two expanded maps and everything that makes the life of a bus driver more enjoyable.
You have already experienced the everyday life of a bus driver, but it has never been as beautiful as it is now. With Bus Simulator 21, available from today, the simulation series noticeably picks up speed. The developers are offering various new contents and an improved graphical presentation, as developer Stillalive Studios is switching up several gears. You have never experienced a bus simulator like this before. Want to get a first glimpse? Here is the launch trailer.
New open world, two maps, multiplayer, many bus models
Bus Simulator 21 shines with a bulging bus fleet with 30 officially licensed buses from 10 well known manufacturers that are included right from the start, including popular brands such as Mercedes Benz, IVECO BUS, MAN and Volvo. City buses, articulated buses, e-buses and even double deckers cruise through the open world scenarios of Bus Simulator 21 on two huge maps.
The map known from Bus Simulator 18 with the European city of Seaside Valley is back, in an expanded form. New this time around (with an obvious North American setting) are the open world areas in the city of Angel Shores. Publisher Astragon makes it clear that the open world approach is even more pronounced and players will have more fun exploring. Alone or in co-op mode with up to three other players.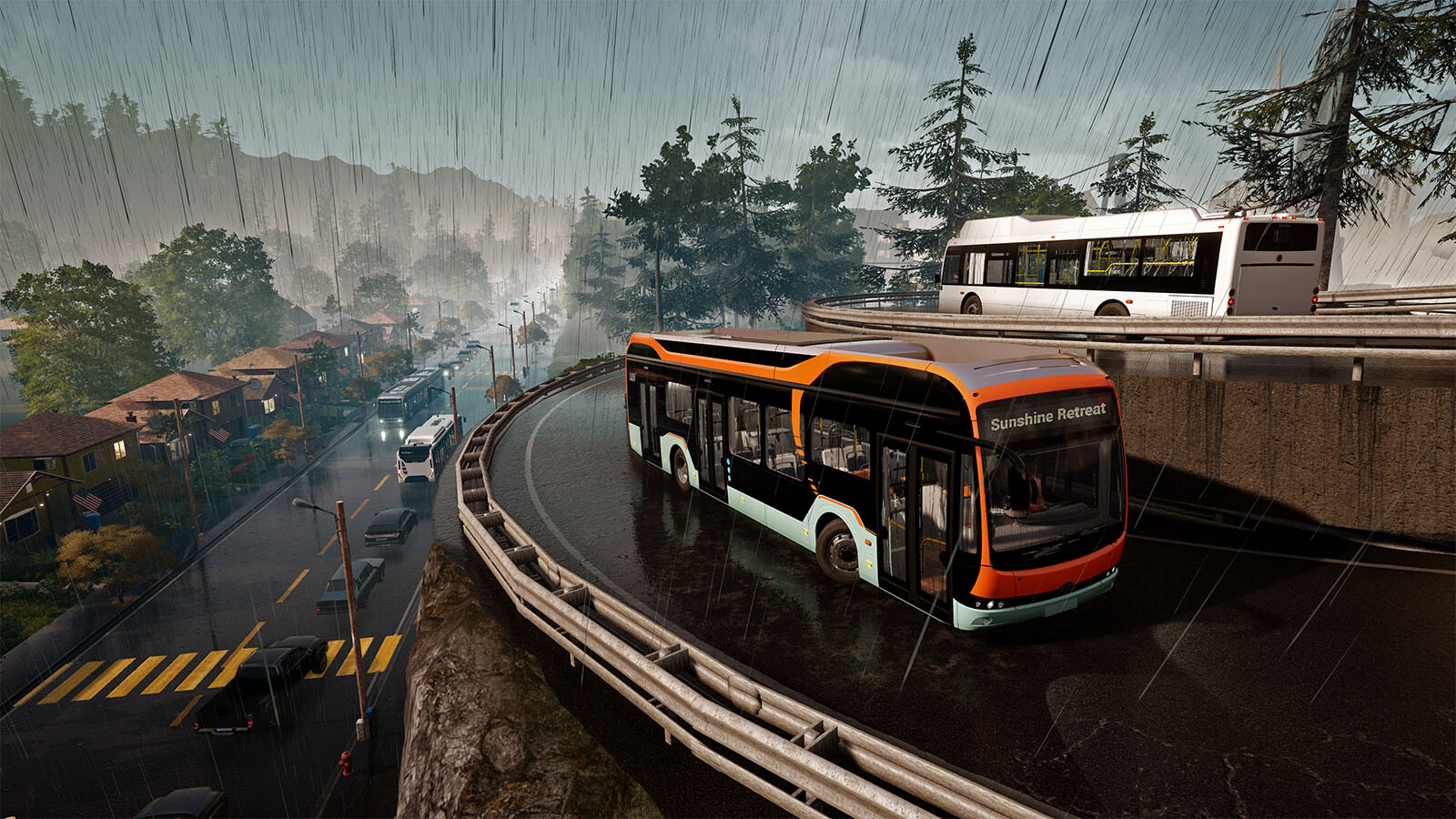 In terms of visual presentation, Bus Simulator 21 makes a huge leap. For example, the day and night changes and the dynamic weather make the bus driving simulation much more realistic. Additional management functions, with which you can, for example, create your own routes, increase the revenue of the transport company and even take into account peak times and the changing times of day when creating timetables, provide even more depth to the game.
Angel Shores Insider Skin Pack free for a short time
You can give the buses in your fleet an individual look. One way to do this is with the Angel Shores Insider Skin Pack, which we are offering all customers free of charge during the release week. All you have to do is buy Bus Simulator 21 ** on Gamesplanet by September 13th 2021 at the latest** with 10 unique bus paint jobs included in the DLC. You can use them to represent the new American map of Angel Shores and its sights and secret locations as you drive through the streets of Angel Shores and Seaside Valley.