19 March, 2020 – CraigB

GP Team
DOOM Eternal - Everything you need to know!
Fight the forces of hell once again when DOOM Eternal comes to PC on March 20th. Get up to speed with the game in our handy recap guide while you wait!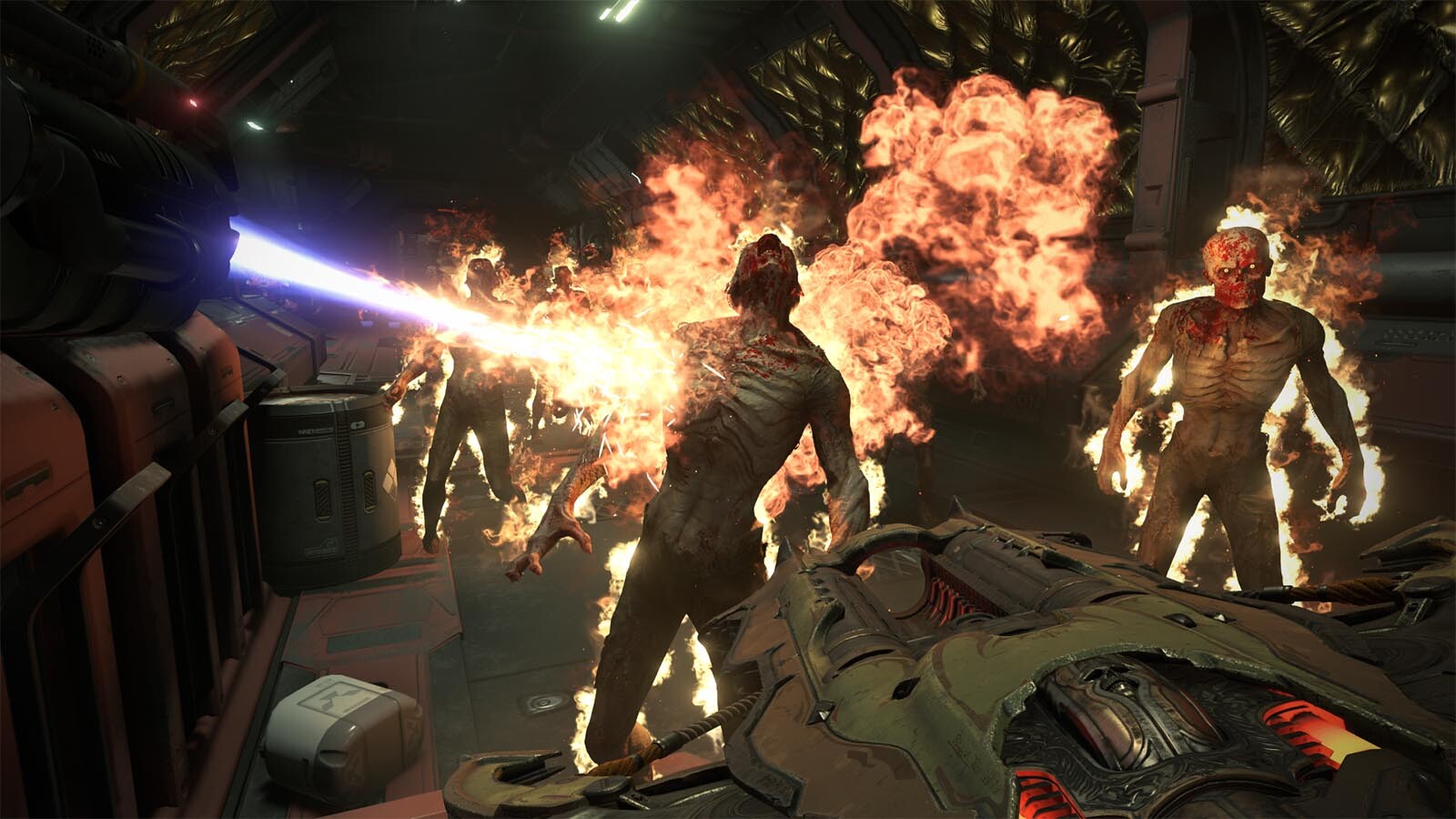 What is DOOM Eternal?
DOOM Eternal is the next entry in the popular first person shooter series, which goes back to the original game from 1993 (you've probably played it) and is a sequel to the fantastic 2016 reboot, which is created by the folks at ID Software and published by Bethesda.
Like the previous title, DOOM Eternal sees players returning as the Slayer once again, this time to save humanity from new threats in an epic single player campaign that is at least 15 hours long (not counting secret hunting). It picks up directly after the events of DOOM 2016 and continues the fight. This time around the player will visit brand new places, including Earth as demons do their best to enslave mankind.
Expect a wide range of guns at your disposal as you prepare to take on anything that stands in your way. Many favourites from the 2016 game return, but there are also new weapons and you'll even be able to customise them with various upgrades that change gameplay. For example, the Super Shotgun returns with an upgrade that allows it to hook on an enemy and pull the player towards the enemy. Other new additions including a flame belt that can be used to melt armour off foes, or an icebomb grenade that can be used to freeze enemies in place for a limited time.
Another new featured is the Fortress of DOOM, a place the Slayer can enjoy a moment of downtime between missions and can listen to some classic tunes from previous games, admire his collection of weapons or even take on some challenges. Speaking of challenges, once again the game is filled with collectibles, secrets and tough encounters that add to the replayability.
The game also introduces a brand new 2v1 Batltemode in which 3 players go head to head, with 1 player being the Slayer and the other 2 controlling demons in an attempt to stop them by setting up traps and using abilities - with unique ones for each demon.
Whether you're a DOOM fan, or someone who loves FPS action games then you're likely going to enjoy DOOM Eternal.
DOOM Eternal Trailer Recap
Looking for a recap on all DOOM Eternal trailers, gameplay videos and other videos you've missed? We've put together a playlist for all that below!
DOOM Eternal PC Launch Times
Prepare for release by preloading the game right now. Players will need at least 38 gigs of HDD space in order to download Bethesda's upcoming hellish first person shooter sequel.
Preload: - Available Now!
Launch Time: - March 19th at 23:01 GMT / 9pm PDT / 00:01 CET (March 20th)
DOOM Eternal PC System Requirements
Fight through hell once more when DOOM Eternal arrives later this month on March 20th. Not sure if your PC can run the game? Take a look at the PC System Requirements needed to run the game. All players will need at least a 64 bit OS (Windows 7 / 10) in order to play. As always we'd recommend making sure you have the latest drivers for your Graphics Card to ensure the smoothest experience at release - AMD / Nvidia.
PC Ultra-Nightmare Specs (2160p / 60 FPS / Ultra-Nightmare Settings) OR (1440p / 120 FPS / Ultra-Nightmare Settings)
64-bit Windows 10
Intel Core i9-9900K or better, or AMD Ryzen 7 3700X or better
16GB System RAM
NVIDIA GeForce RTX 2080 Ti (11GB)
50 GB hard drive space
PC Recommended Specs (1440p / 60 FPS / High Quality Settings)
64-bit Windows 10
Intel Core i7-6700K or better, or AMD Ryzen 7 1800X or better
8GB System RAM
NVIDIA GeForce GTX 1080 (8GB), RTX 2060 (6GB) or AMD Radeon RX Vega56 (8GB)
OR (1080p/ 60 FPS / High Quality Settings) NVIDIA GeForce GTX 1060 (6GB), NVIDIA GeForce 970 (4GB), AMD RX 480 (8GB) Note : On GTX 970 only - set Texture Quality to Medium
50 GB hard drive space
PC Minimum Specs (1080p / 60 FPS / Low Quality Settings)
64-bit Windows 7/64-Bit Windows 10
Intel Core i5 @ 3.3 GHz or better, or AMD Ryzen 3 @ 3.1 GHz or better
8GB System RAM
NVIDIA GeForce 1050Ti (4GB), GTX 1060 (3GB), GTX 1650 (4GB) or AMD Radeon R9 280 (3GB), AMD Radeon R9 290 (4GB) or RX 470 (4GB)
50 GB hard drive space
DOOM Eternal PC Version Comparison
Not sure which version of DOOM Eternal is right for you? Take a look at our handy version comparison guide to decide!
| DOOM Eternal Content | Standard | Deluxe Edition |
| --- | --- | --- |
| Main game (Bethesda key) | | |
| DOOM 64 | Pre-Order | Pre-Order |
| Rip and Tear Pack (DOOT Revenant Skin for Battle Mode, Bonus Campaign Master Level and "Throwback" Shotgun Weapon skin) | Pre-Order | Pre-Order |
| Year One Pass (DLC 1 and 2) | | |
| Demonic Slayer skin | | |
| Classic Weapons Sound Pack | | |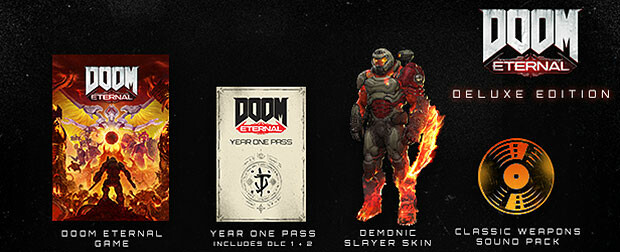 DOOM Eternal Pre-order Bonus
DOOM Eternal launches on March 20th, pre-order any version of the game today from Gamesplanet to get the following bonuses for free!
DOOM 64:

Play this classic game for free
The Rip and Tear Pack includes:
DOOT Revenant skin to use in BATTLEMODE
Cultist Base Master Level - A remixed version of the campaign level "Cultist Base," with new challenges and surprises
"Throw-back" Shotgun Weapon Skin - Bring DOOM's original shotgun to bear on DOOM Eternal's demon hordes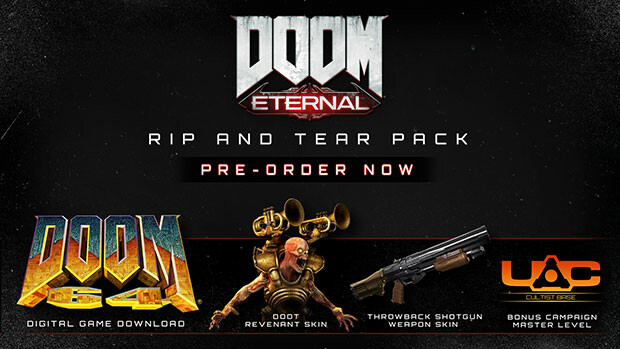 Problems with DOOM Eternal? We're here to help!
Getting a new game is an awesome experience and we want to make that as trouble free as possible, so we've put together a guide of common troubleshooting problems and FAQ's to help you out with DOOM Eternal on PC. You can find our Help Topic here. You can also reach us via [email protected]