23 February, 2022 – CraigB

GP Team
Elden Ring - Everything you need to know!
Who has what it takes to take on the job of an Elden Lord? Elden Ring also puts to the test. The wait is almost over as the release date dawns on February 25th - get a recap of the game while you wait.
What is Elden Ring? A ring to bind us all
We have lit many fires, rung many bells, put on many rings, sworn many oaths, stood proudly on the steps of the church of Anor Londo, our faith has made us work miracles, all for the one flame - and again and again death has separated us.
Few bonds are as beautiful, passionate and ghastly at the same time as those of gamers with the Dark Souls series. Elden Ring's 20-minute gameplay presentation has rekindled the fire for Soulslikes. The fantastic world design in a dark fantasy setting, the unmistakable From Software mood, familiar sound effects, the dearly loved battle system. Everything is there - and in Elden Ring even more of it. More freedom of movement, more complex spells, mounts, puzzling stories. "From Software can't develop bad games anymore," we hear again and again. Since Demon's Souls, that's been true.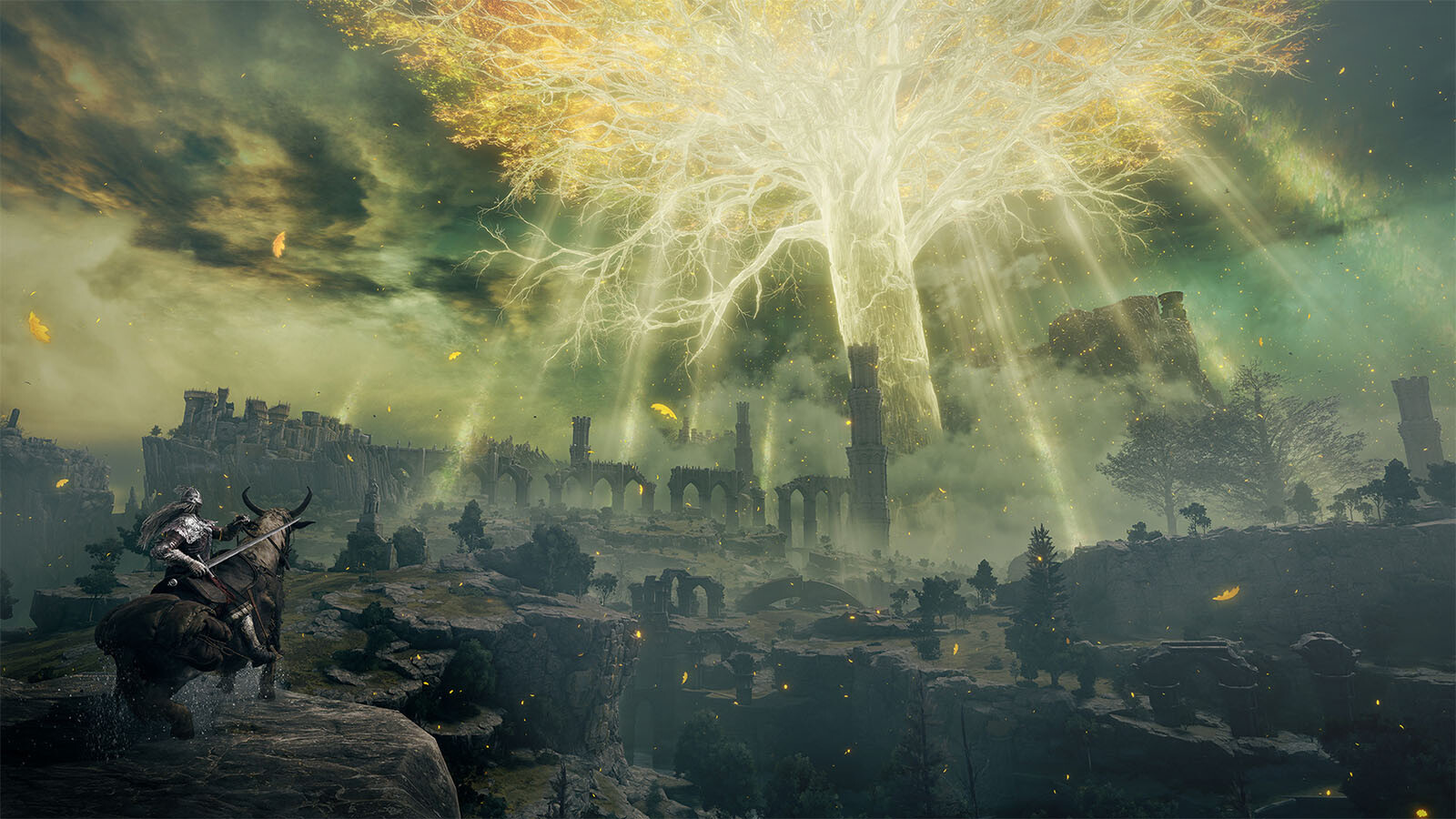 Elden Ring, however, is no Dark Souls, even though it may look like one and plays like one to a large extent. It offers us its own setting and, for the first time, an open-world design. Fans of From Software games are critical of this departure from the previous, cleanly thought-out level design. But reviews by the trade press show: With Elden Ring, From Software has once again done everything right and perhaps delivered the best Souls-like game. At the moment, Elden Ring has a total score of 95/100 on Metacritic - insane! Even IGN have rated the game with a perfect 10/10, calling it a masterpiece.
The story of Elden Ring is told fragmentarily during gameplay, as you would expect from a From Software title. There is some basic background knowledge beforehand: The Elden Ring has been destroyed and chaos descends upon the interlands. Your job as a so-called "Tainted One" is nothing less than to defeat various demigods and restore order. Find out what the Earth Tree is all about and assemble the Elden Ring. Whoever manages to do this will probably be able to call themselves "Elden Lord" at the end of the game and look forward to the New Game+ mode.
Elden Ring - Trailer Recap
Want a little foretaste? We've put together a playlist of all the important trailers for Elden Ring, including the test clip from IGN.
When will Elden Ring be playable? Here is the PC launch time
You can already start the preload with the Steam keys from Gamesplanet and shovel 48.5GB of data onto your machine. Elden Ring will officially be released on February 25th at 00:00 CET, which is February 24th at 3pm PDT / 11pm GMT.
Preload start: Now!
Start time: February 25th at 00:00 CET or February 24th 3pm PDT / 11pm GMT
Elden Ring - Review roundup scores
Find out if critics from the trade press got along with the open world design of the new From Software game. Spoilers: Testers are thrilled! It hails many positive awards with 90s and also a lot of 100s ratings. Some are even talking about the "best Souls-like game ever". Here is an overview with ratings:
IGN: 10/10 ("Masterpiece")
PC Invasion: 100/100
NME: 100/100
VG247: 100/100
Game Informer: 100/100
PCGamesN: 100/100
GameSpot: 100/100
Hardcore Gamer: 100/100
Twinfinite: 100/100
Wccftech: 100/100
WellPlayed: 100/100
PC Games: 10/10
The Games Machine: 97/100
GamePro: 94/100
GameStar: 91/100
PC Gamer: 90/100
RPG Site: 90/100
GamingBolt: 90/100
Trusted Reviews: 90/100
... at this point we break off the listing. There are many more 90 ratings to follow, and of course some 80 ratings as well. But the bottom line is clear, Elden Ring should not be missing from any gaming library.
Elden Ring PC System Requirements
Developer From Software doesn't use a new engine for Elden Ring, but probably a somewhat beefed-up one, and the leap from Dark Souls 3 to the new open-world title isn't a very big one in terms of performance requirements. While DS3 required at least a GTX 750 Ti or a Radeon HD 7950, Elden Ring should at least require a GTX 1060 or a comparable graphics card. As always, we recommend that you use the latest drivers for your graphics cards to have the smoothest gaming experience possible - AMD / Nvidia.
Elden Ring PC System Requirements
Minimum Requirements
OS: Windows 10
Processor: Intel i5-8400 / AMD Ryzen 3 3300X

Memory: 12 GB RAM
Graphics: Nvidia Geforce GTX 1060 3 GB / AMD Radeon RX 580, 4 GB
DirectX: DirectX 12 (Feature Level 12.0)
Disk: 60 GB free disk space

Recommended System
OS: Windows 10/11
Processor: Intel i7-8700K / AMD Ryzen 5 3600X
Memory: 16 GB RAM
Graphics: Nvidia Geforce GTX 1070 8 GB / AMD Radeon RX VEGA 56, 8 GB
DirectX: DirectX 12 (Feature Level 12.0)
Disk: 60 GB free disk space

Buy Elden Ring: Extras for pre-orderers
Pre-order your Steam key for Elden Ring now online at Gamesplanet (Standard or Deluxe) and receive the following content as a bonus:
Adventure Guide: Contains useful information for the player's adventures in the Lands Between.
Bonus Gesture: This is a gesture that can be used in-game. The player can also obtain this later in the game.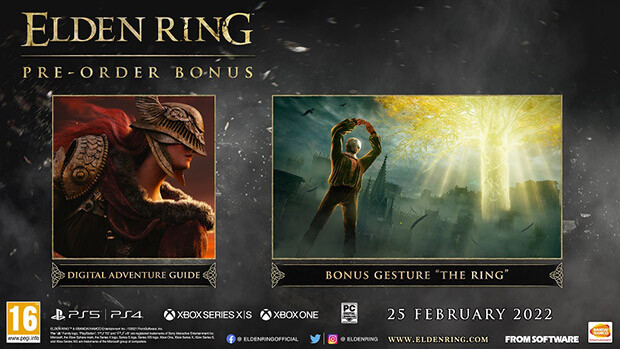 Problems with Elden Ring? We will help you!
We also always recommend our First Aid Kit on a AAA release like this if you have any questions or problems. You can also contact our support directly at [email protected]. Have fun with Elden Ring, stained ones! PRAISE THE SUN!