05 September, 2016 – CraigB

GP Team
For Honor Alpha coming next week, gets 3 new trailers!
War is coming, on September 15th players will get their first chance to play the upcoming hack and slash multiplayer title For Honor which pits 3 Factions against each other. From the Deadly Kensei that wield very sharp swords to the Powerful Raiders or the noble Wardens, there is a Faction for everyone! Will you stand together with your friends or avenge their dying breath?
Masters of the martial arts, ready to die for their emperor and for their fellow Samurai, the Kensei all fight with the nodachi.
That deadly blade, a longer version of the classic katana, is used to cleave their enemies in a few elegant and powerful strikes.
Raiders are always found at the forefront of the Viking horde.
These fierce warriors embody the ideals of true Viking warriors: bravery, integrity, and passion. All know that their moment of death has already been chosen, and so they do not fear it.
The Wardens are powerful, noble warriors dedicated to the defense of their land and their people.
Well protected in mixed armor, Wardens wield massive two-handed longsword.
Trained to be proud, the Wardens are expected to embody only the highest values of the Knight faction.
You can signup for the For Honor Alpha right here for a chance to play the game from September 15th - September 18th. The full game will released on Valentines Day (February 14th) 2017 for PC, Xbox One and PS4.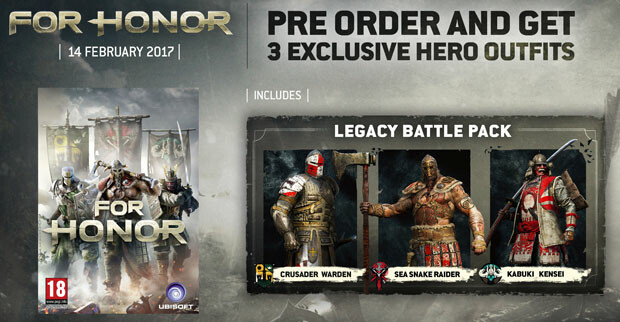 Pre-order the game today to receive the Legacy Battle Pack which includes 3 exclusive Hero outfits, one each for the Warden, Raider and the Kensei Factions.
Source: http://www.pcgamer.com/for-honor-drops-trio-of-class-trailers-ahead-of-closed-alpha-next-week/