13 September, 2016 – CraigB

GP Team
For Honor gets another 4 Trailers ahead of the upcoming Alpha, starting this Thursday!
The Orochi are the Imperial assassins of the Samurai. They roam the battlefield like ghosts, terrorising and slaughtering those unfortunate enough to cross their path. Lightly armoured and trained in the arts of stealth and deception, the Orochi dispatches enemies with a katana. Usually loyal beyond reproach, the Orochi holds the darker samurai secrets of dealing death in myriad ways, from throwing deadly knives to using a poisoned blade.
As one, they are growing as strong as they have ever been – yet they still remember the bitter taste of exile. They were driven from their ancestral homes, and now in foreign lands they are vastly outnumbered by their neighbors. The Samurai therefore rely on greater skill, greater cunning, and greater devotion to each other in order to survive. And survive they must – for perhaps they are the last of their kind.
Berserkers are chaotic and brutal dual-axe-wielding Vikings. Their savage love of combat strikes fears the hearts of most, friend and foe. The Berserker fights relentlessly, capable of vanquishing foes before they can mount a decent defence. Unconcerned with their personal safety, they care little for their own defence, focusing instead on killing as many enemies as they can.
Conquerors are ex-prisoners and forced conscripts who have risen to the rank of elite soldier. They are heavily armoured warriors, relying on a defencive style and their massive flails to whittle away at their opponent's stamina until they fall under the Conqueror's massive onslaught. Climbing from the lowest rank to this prestigious role in the Knight's forces. Conquerors have earned the respect of their peers through determination and feats of arms.
You can signup for the For Honor Alpha right here for a chance to play the game from September 15th - September 18th. The full game will released on Valentines Day (February 14th) 2017 for PC, Xbox One and PS4.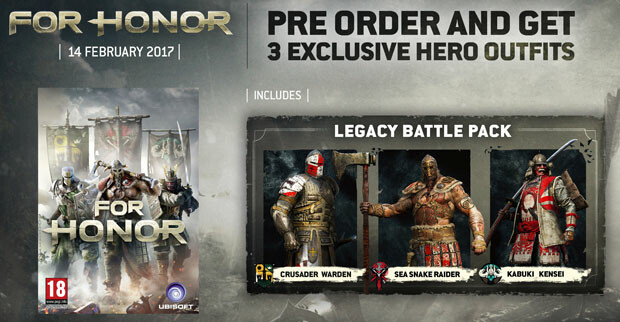 Pre-order the game today to receive the Legacy Battle Pack which includes 3 exclusive Hero outfits, one each for the Warden, Raider and the Kensei Factions.