11 January, 2017 – CraigB

GP Team
For Honor - Thin Red Path Trailer, Closed Beta coming January 26th!
War is coming, on January 26th players will be able to join in the next Multiplayer beta for the upcoming Ubisoft hack and slash For Honor! It'll be available until January 29th for PC, Xbox One and PS4 players wishing to try out their skills in battle. By participating in the Closed Beta you'll get a chance to unlock some spoils of War when the game goes live on February 14th.
The Emblems of Old represent the undying bravery and resilience of For Honor's mightiest heroes. Formed generations ago by the elders of the Knights, Vikings, and Samurai, these badges rank among the land's most ancient and hallowed honors.
All warriors who fight during Beta will be given the Emblems of Old. After game launch, you may redeem the Emblems and adorn your weapons and armor with their distinction.
Sign up for the beta over here! ►https://forhonor.ubisoft.com/game/en-gb/register/index.aspx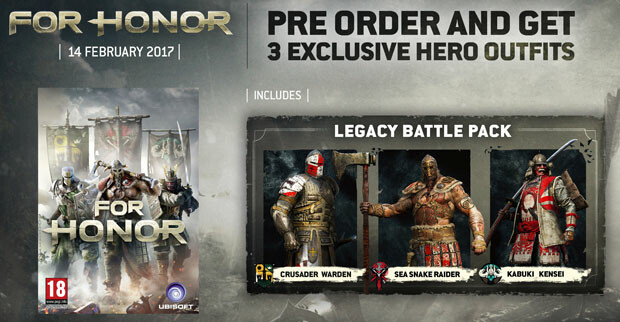 Pre-order For Honor today and receive the Legacy Battle Pack for free!