17 January, 2017 – CraigB

GP Team
Valkyrie and Lawbringer Classes Unveiled!
IGN have just revealed 2 brand new classes coming to For Honor. Meet the Lawbringer and Valkyrie, two distinct classes - but both are a force to be reckoned with.
The Lawbringers are justice, they go wherever they are needed (sounds a bit like the A-Team), equipped with some armour which has no equal and a giant pole-axe for dishing out some swift punishment. They're definitely prepared for any battle that awaits them on the frontline!
The Valkyrie are a warrior race who have made a deal with the gods, each one can earn glory for the fallen dead. They carry with them mighty spears and are a deadly foe.
It's still not too late to sign up for the upcoming beta which arrives next week (January 26th), you can gain some great rewards by participating so why not give it a try? Sign up for the beta over here! ►https://forhonor.ubisoft.com/game/en-gb/register/index.aspx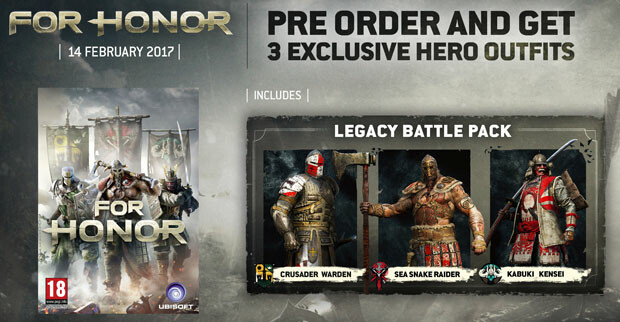 Pre-order For Honor today and receive the Legacy Battle Pack for free!