03 February, 2017 – CraigB

GP Team
For Honor - Season Pass Content Revealed!
With the game set to launch in just under 2 weeks, Ubisoft have lifted the lid on what players can expect when purchasing the Season Pass for For Honor and as expected it'll come with rewards worthy of a champion.
The Season Pass will feature 7 day early access to 6 new heroes, 6 new elite oufits for your heroes, an exclusive sunbeam effect emote for all heroes, three exclusive emblems, 3 scavenger crates and 30 day champion status (which grants you and your allies bonus XP for various things and more loot at the end of games).
For Honor will be available February 14th, you can play in the open beta from February 9th - February 12th.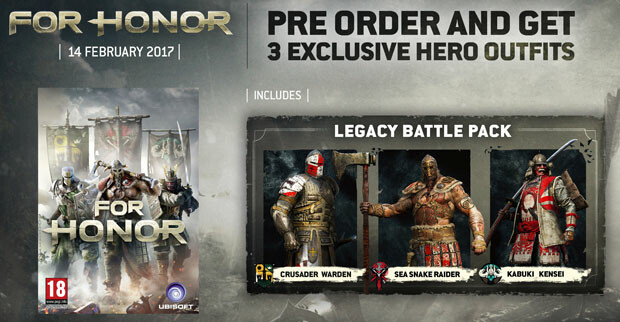 Pre-order the game today and receive the Legacy Battle Pack for free!