10 February, 2017 – CraigB

GP Team
For Honor - Trailers Recap
War will be coming next week with the release of For Honor, get a recap on the game trailers ahead of launch to be ready for Battle!
Only a couple days to go until For Honor opens the gates to players around the world eager to do battle for the first (unless they've played the beta) time! Since it can be a hard time learning about a game this close to launch we've put together a list of all the trailers into a handy playlist below which will let you view all of them in one place.
How will For Honor shape up? Will it become as popular as Rainbow Six Siege? Only time will tell, for now though the future looks quite bright with a ton of content already in the game and more on the way it's likely the game will be a sucess. Don't forget you can try the open beta right now for yourself and try to survive the perils of war!
As a reminder, keys for For Honor are now available so you can get ready for the upcoming pre-load. Unsure what to purchase? Check out the comparison below for a better understanding of what you get.
Versions Available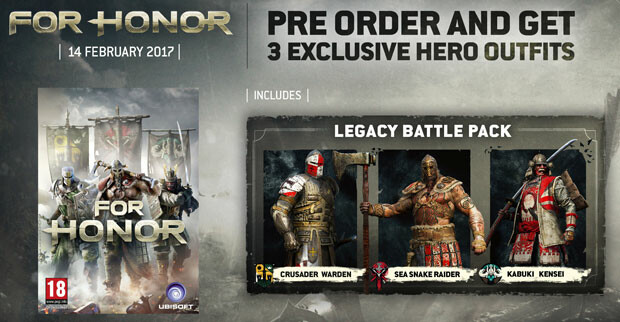 For Honor will be available February 14th, pre-order the game today to receive the Legacy Battle Pack for free!