21 October, 2020 – CraigB

GP Team
Ghostrunner: Cyberpunk Hack'n'Slash runner with a difference - Preview
Developer One More Level Games and Publisher 505 Games use Ghostrunner to cut the cord between Mirror's Edge and Cyberpunk 2077. The parkour cyberpunk game adds a touch of Hack'n'Slash mechanics, with the demo showing plenty of promise!
At the latest since the announcement of Cyberpunk 2077, dystopian future scenarios in the style of Blade Runner are once again in fashion. Influenced by authors such as Philip K. Dick ( Do Androids Dream of Electric Sheep?) and William Gibson (Neuromancer), the Science Fiction setting has always remained a piece of the present thanks to the constant expansion of the subject matter under the umbrella of various Shadowrun offshoots. The opulent Cyberpunk 2077 makes them even more colourful and hangs them even higher, with the unmistakable neon neon signs of the metropolises showing off an oppressive future in which only big corporations control the globe. In a completely commercialised high-tech world, the citizen has to obey under the cudgels of a surveillance state. It's good that games give us the opportunity to rehearse resistance right now.
Cyberpunk 2077, with its open game world, numerous weapons and role-playing elements, will be a huge time sink at full price. However, some fans of the Sci-Fi setting don't want to have to deal with this (or don't have the strong PC for it) and that's why it's good when a development studio like the Polish developers One More Level Games produces a comparably credible game world, but focuses on a few game mechanics of an action game and does everything right in this area. Ghostrunner, which will allow you to do wall runs between neon signs from October 27th 2020, combines running, jumping, climbing and sliding with hardcore close combat action. Your weapon: a Katana. Your skills: Superhuman!
Survival fight between hi-tech towers
Not much is left of Humanity, and the few survivors have relocated to the so-called Dharma Tower, the last remnant of civilization after the devastating apocalypse. At the very top, the keymaster Mara is supposed to get cybernetic implants, because the unscrupulous boss has no love for human life. In Ghostrunner, a battle for the last resources has long since broken out, and you're a nimble Cyber Ninja with your blade weapon. Failure means the end of mankind.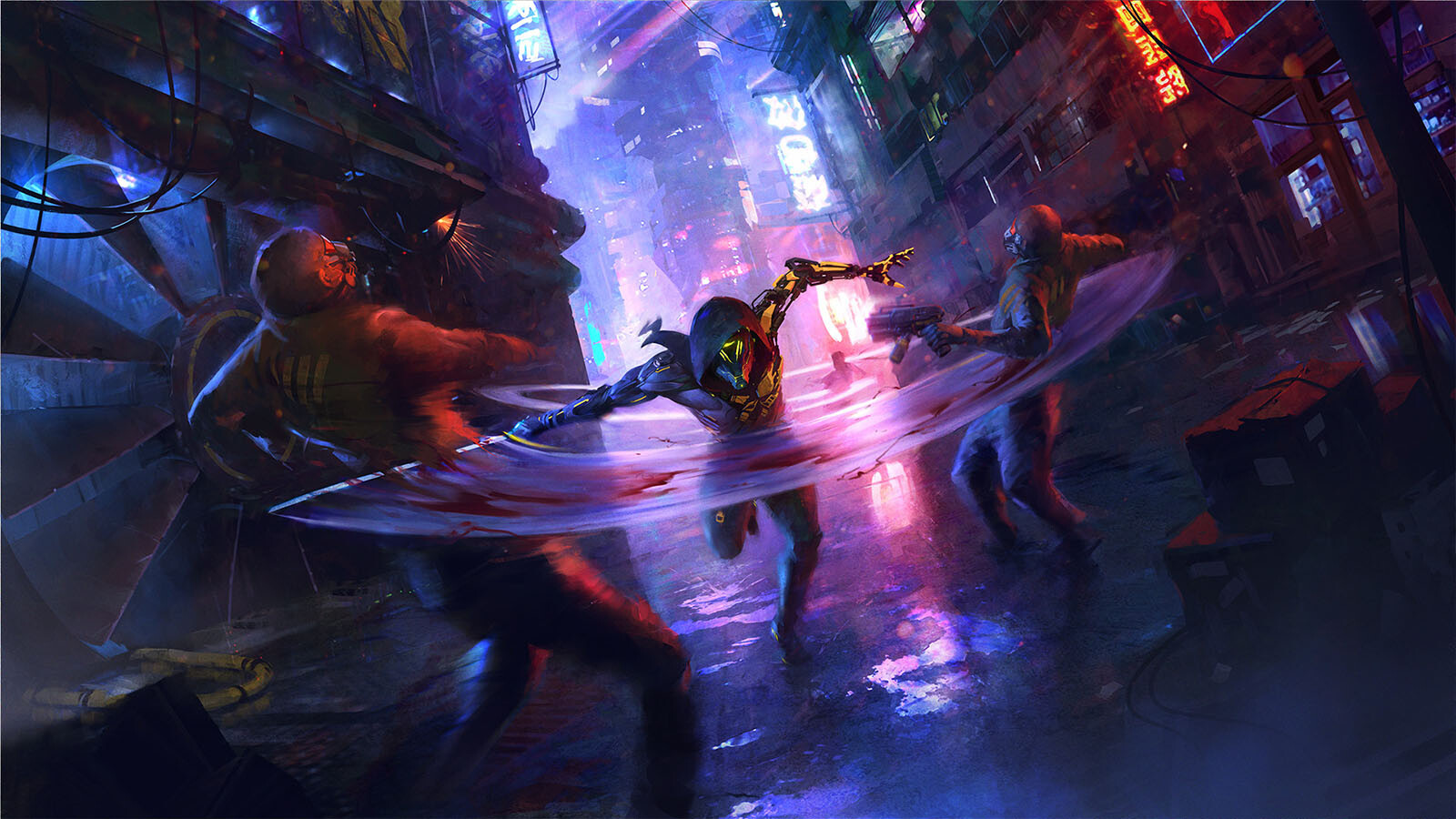 Your Cyber Ninja, unlike your opponents, may not have firearms, but he does have special skills that allow him to wield blades in the real world and in cyberspace. Thus you will climb the gigantic tower piece by piece, discovering secrets and hiding places - until the final showdown. A time when Ghostrunner has made you a gamepad acrobat (unless you prefer to play on keyboard, which is also fine!).
Run, jump, shred
Ghostrunner draws great potential from its rapid playing tempo, designed to execute combo attacks with fast movements. In the distance, you will often spot weaker opponents equipped with firearms and between you are several deadly chasms. So take a running jump, jump right to one wall, dive left to the opposite wall, climb up onto the next platform, slide towards the enemy and then hit him with your katana from the jump. Such an attack often cuts an enemy in two. Ghostrunner turns out to be a bloody spectacle and looks like something out of a Sci-Fi comic book novel.
Evasive manoeuvres in the air are also possible thanks to the skills of the cyber warrior. One touch of the right button and you can slow down time for a moment. This gives you the opportunity to escape from an enemy's fire in slow motion. There is no time to rest though as you're constantly under fire in the cyber metropolis. So get close to enemies as fast as you can, because they won't let up. A single hit is enough and you will need to make use of the temporary slowdown to stay alive. In Ghostrunner, dying is a good thing. It sometimes takes a while to analyse the environment sufficiently and use it to your advantage.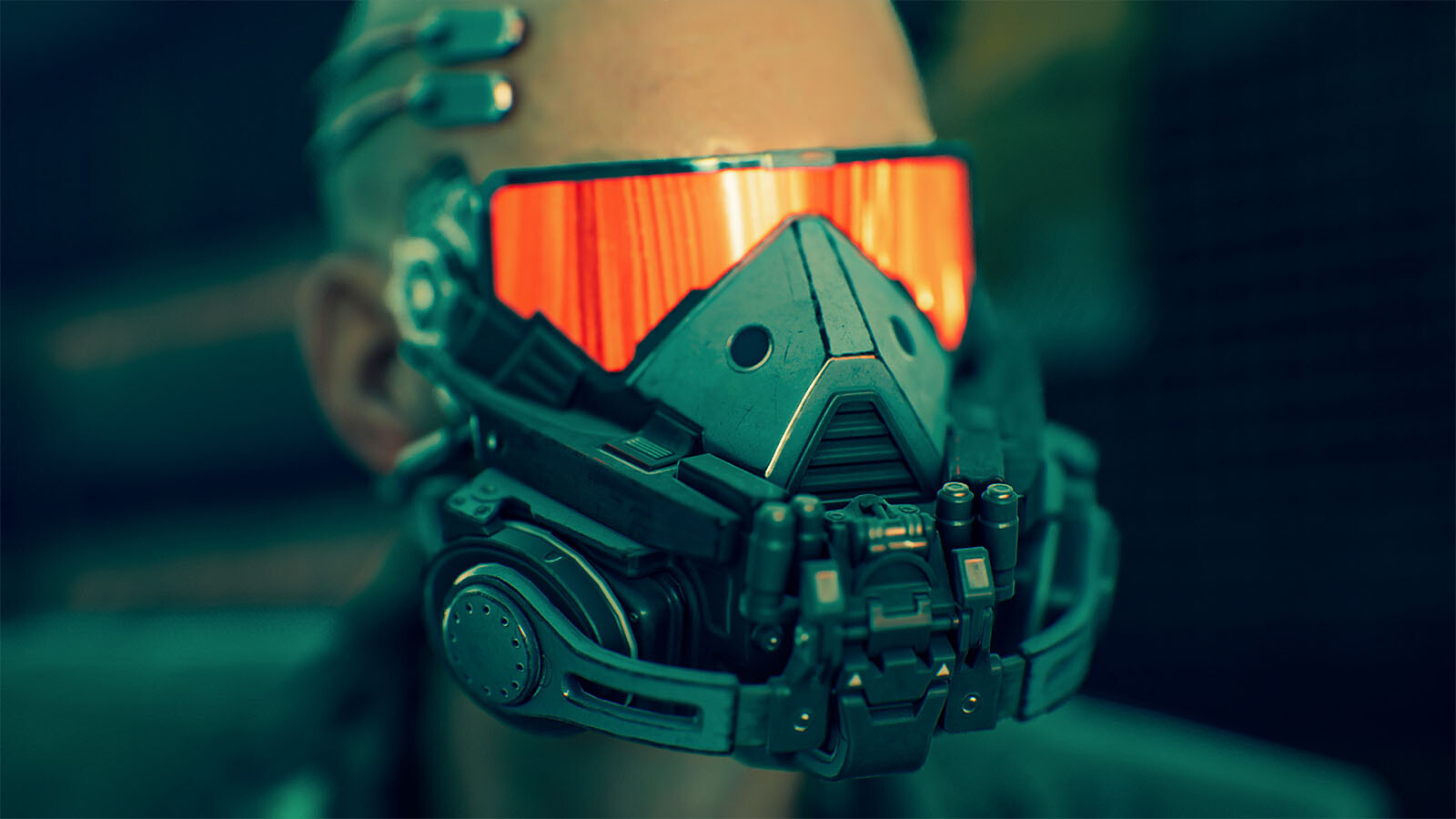 Fast action, beautiful cyber world
When your Blade Man races through the future world, slicing up enemies in a row, it looks pretty cool - and it's a lot of fun, because the one-hit kills are extremely satisfying. Take the time to familiarise yourself with the controls. Sooner or later, you'll get so caught up in the flow of the game that you'll be happy to have it all hang out and can perfect your timings to become a true warrior. Graphically, Ghostrunner is based on Unreal Engine 4 and looks absolutely stunning with high visuals on display. The design of the environment, the representation of this oppressive, dystopian world, is also convincingly well done and is a little less colourful than the previously mentioned Cyberpunk 2077, which has got too much colour, especially for Blade Runner fans.
It will become apparent in the finished game whether the full story also has an adequate depth and whether we can develop a personal relationship to the protagonist of Ghostrunner. Ghostrunner is launching next week on October 27th and you can give the Steam Demo a play today. You can also save 25% off the game and if you pre-order you'll also get access to two digital katanas as a bonus!