19 December, 2018 – CraigB

GP Team
JUMP FORCE - Join the JUMP FORCE (Story Mode Trailer)
The Manga universe has merged together in the upcoming JUMP FORCE, which is out on February 15th 2019. Find out more about the story with a brand new gameplay trailer while you wait.
Countless worlds have merged together and various franchises collide in Bandai Namco's upcoming brawler JUMP FORCE, which is set to release on February 15th 2019. Earth is under attack from villains who are invading the planet and a new team of heroes has been called upon to save the day. Known as the JUMP Force, this band of heroes is put together by Director Glover and features some of the strongest fighters from the manage universe including Goku, NARUTO, One Piece and more! Players will need to create their own fighter to work with the JUMP Force. Customise your hero with a variety of styles and moves from all of the featured franchises. We also get a look at the mysterious Onyx Book, which is a powerful device that is suspected to have caused the merging of the worlds. But what is it? We'll find out early next year.
Additionally, the trailer also showcases the 4 recently revealed fighters that will be joining the JUMP FORCE roster at launch:
Asta, from Black Clover. A stubborn child wielding a unique anti-magic sword
Trunks, from Dragon Ball. The son of Vegeta and Bulma, he possesses the incredible strength of his father, with the intelligence of his mother
Boa Hancock, from One Piece. The captain of the Kuja Pirates and the only female member of the Shichibukai
Renji Abarai, from Bleach. A highly talented swordman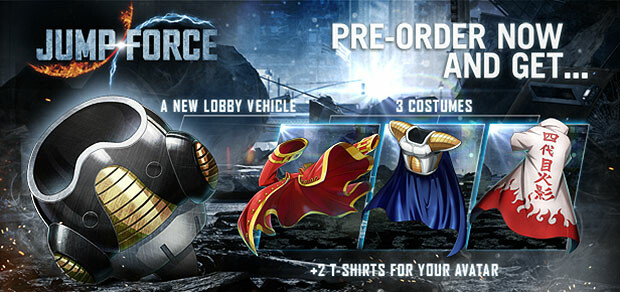 JUMP FORCE launches February 15th 2019, and you can pre-order any version of the game today to get bonuses + 10% off!