29 June, 2017 – CraigB

GP Team
Micro Machines World Series - Over 40 Minutes of New Gameplay Footage, Preload Live!
The Topdown racer series Micro Machines World Series brings back the classic racing action from the 90's, and is launching tomorrow. Pre-loads have started, you can get your key right now! Publisher Deep Silver showcases off the game by playing the game in a live gameplay session for over 40 minutes.
Originally the Micro Machines series launched way back in 1991 on the Nintendo Entertainment System (NES), but had been ported over to various consoles throughout the years and spanned many entries in the franchise, including my personal favourite Micro Machines 2: Turbo Tournament for the Mega Drive in 1994. It's been 11 years since we got the last entry with Micro Machines V4 back in 2006, and from tomorrow the next entry will launch with Micro Machines World Series. As pre-loads open up on Steam, we're able to download the game ahead of the June 30th launch (at present it's 12 hours until launch according to Steam).
Over the years, we've had countless titles and while it was not quite a Micro Machines titles in in name, Toybox Turbos is a love letter to the Micro Machines franchise with Codemasters offering top down racing on crazy levels and powerful weapons to fight with. While not perfect, the racing action in Toybox Turbos did manage to capture elements of the genre and was enjoyable but felt lacking somewhat.
For the gameplay demo, publisher Deep Silver has given the game a live gaming session with over 40 minutes of gameplay as they discuss the game and show off various modes, levels and customisation.
In case you missed it, Codemasters unveiled a brand new trailer that presented each of the 12 "hero" vehicles that you'll be driving. Additionally, you can expect some iconic locations within the game from levels like the famous Kitchen, to newer tracks and arenas like the garden. Customise your vehicles as you can equip weapons, skins and more to make your racer stand out amongst the crowd (and cause mayhem to other drivers). Take on game modes like Capture the Flag, King of the Hill and fight in the Deathmatch arenas.
Micro Machines World Serie Features
LEGENDARY LOCATIONS: Featuring the iconic kitchen and pool table tracks amongst others, plus all-new locations and arenas such as the garden and workshop, Micro Machines World Series features 10 Race Tracks and 15 Battle Arenas!
COOL INTERACTIVE PLAY-SETS: Teleporters, catapults, giant fans, etc add even more fun and will ensure no two races are the same!
CUSTOMISABLE VEHICLE CAST: An array of amazing miniature vehicles, each with its own unique load-out of weapons and abilities plus a massive range of customization options!
OFFICIAL HASBRO LICENSES: Featuring NERF, G.I. JOE, HUNGRY HUNGRY HIPPOS and OUIJA
CLASSIC MINIATURE RACING: Micro Machines racing for the purists, including Elimination mode! Huge variety of weapons, interactive tracks, unique skins, and kill markers to earn!
ALL-NEW BATTLE MODES: Up to 12 players in huge arenas, multiple modes that proves that a single takedown is just as satisfying as winning a race!
TEAM-PLAY: Game-changing synergies as you join together to take on the rest!
ONLINE & OFFLINE MULTIPLAYER: Featuring leaderboards, regular challenges/competitions, seasons, playlists, multiple divisons, etc!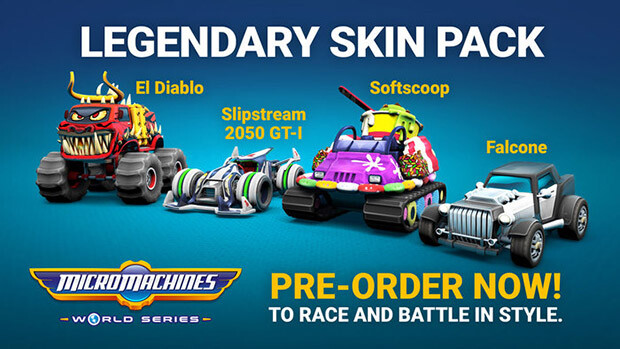 Micro Machines is now available for pre-load, you can purchase the game and be ready for launch. Plus, all pre-orders will come with 4 Legendary Car Skins for free!