24 October, 2018 – CraigB

GP Team
My Hero One's Justice - Over 20 minutes of New Gameplay Footage
Fight for justice in the upcoming brawler My Hero's One Justice which is launching on October 26th. Get a look at the action with over 20 minutes of New Gameplay Footage while you wait.
Suit up and prepare to dish out some justice when My Hero's One Justice launches later this week. While you wait you can feast your eyes on over 20 minutes of new gameplay footage from IGN as they battle their way through the Todoroki Arcade Mode by taking on various challengers from the game.
We've also got a fresh look at the Story Mode for the game with the first 15 minutes (spoilers ahead) which focuses on the Stain Arc from the show. Like the anime series, the game has a very faithful comic book art style for the game cutscenes which makes it feel like the action is leaping directly off the pages!
SPOILER WARNING!
My Hero One's Justice Features:
Choose from a cast of fan favorite characters like Deku, All Might, Shigaraki, and many more!
Use each character's Quirks to achieve superhuman feats such as One for All, Decay, Explosion, and many more!
Call upon your sidekicks to create your own unique team of heroes and villains
Unlock accessories to customize your favorite character's appearance
See the perspective of both heroes and villains as you enjoy the story from both sides, available only in MY HERO ONE'S JUSTICE
Engage in fully featured online combat and climb your way up the leaderboards to become the world's number one hero or villain!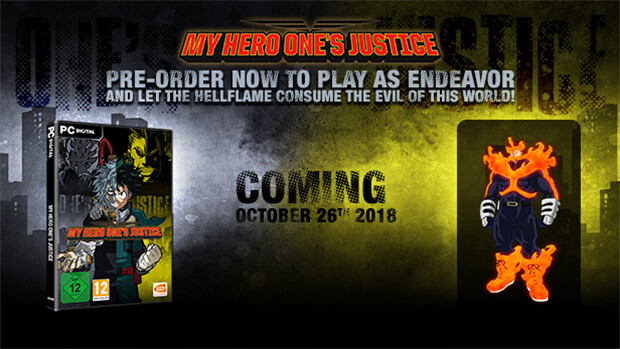 My Hero One's Justice launches on October 26th, pre-order your copy to save 10% off and get the playable character Endeavor for free!