27 August, 2018 – CraigB

GP Team
NARUTO TO BORUTO: SHINOBI STRIKER - Co-Op Missions Trailer
Not long to wait now as Naruto returns later this week in the co-op fighter NARUTO TO BORUTO: SHINOBI STRIKER which is launching on August 31st. Players will be able to team up with other shinobi warriors to take on missions and level up together. You'll be able to customise your characters and try out various mission modes in co-up including:
Co-op Modes Available
Searching – Avoid traps and obstacles to obtain a lost item.
Body Guard – Players must protect the designated ally and bring them safely to an area of the map.
Extermination – Take down multiple enemies that appear on the map as a team.
Subjugation – Defeat ninja foes and powerful monsters with coordinated teamwork.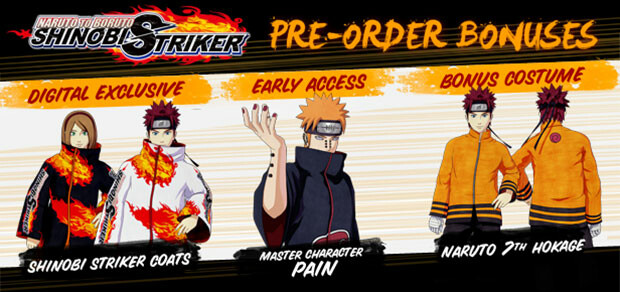 NARUTO TO BORUTO: SHINOBI STRIKER launches August 31st, pre-order the Standard Edition or Deluxe Edition today and get access to exclusive rewards including: Naruto 7th Hokage Costume, early access to Pain, and Shinobi Striker Coats.