12 May, 2019 – CraigB

GP Team
RAGE 2 - Everything you need to know!
Take on the crazy open world of RAGE 2 when it launches next week on May 14th. Get up to speed with the game in our handy recap guide while you wait!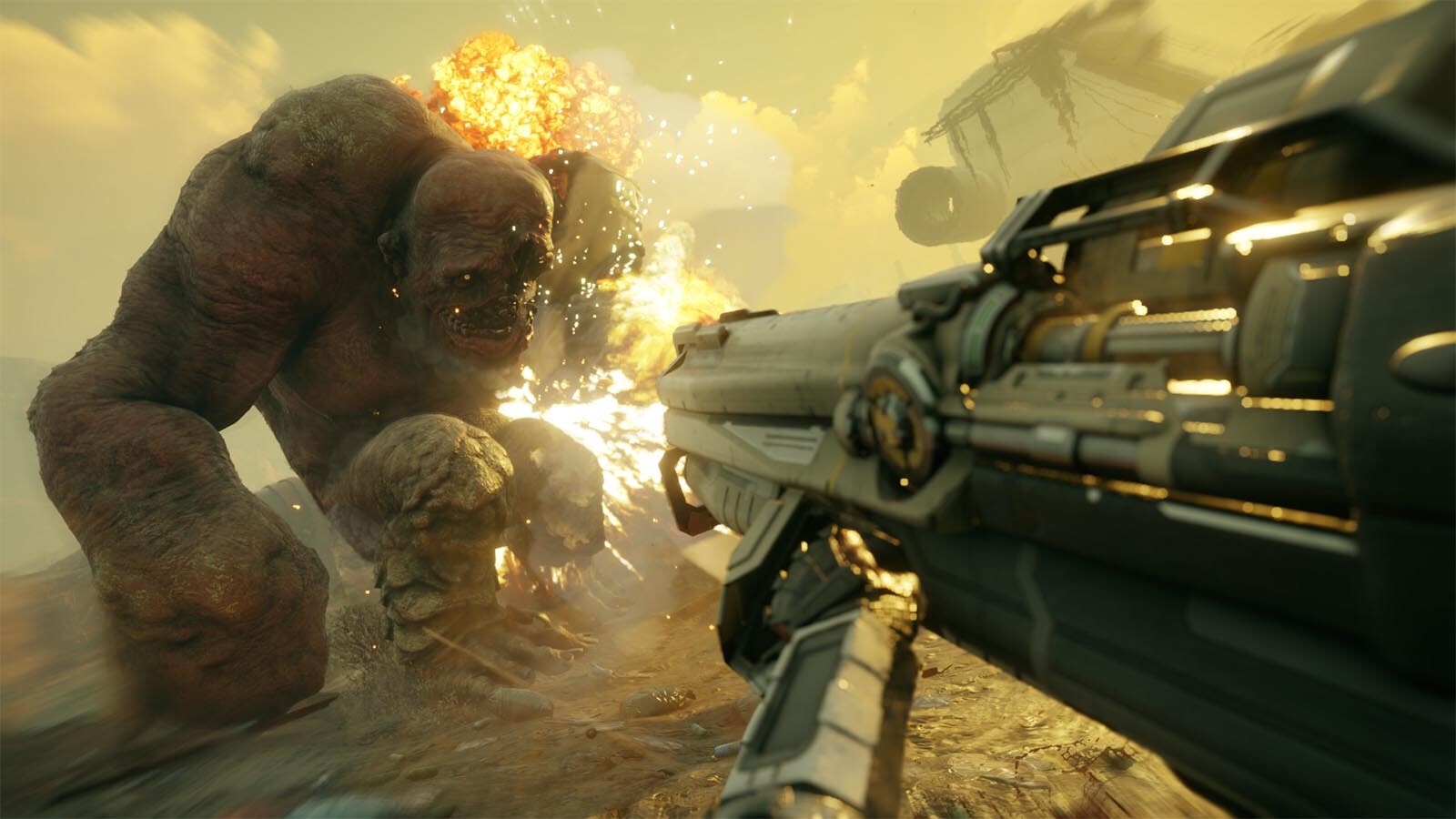 What is RAGE 2?
RAGE 2 is an open world sequel to the 2011 game RAGE. Developer Avalanche Studios, best known for creating titles such as Just Cause 3, Mad Max and more have teamed up with the legendary first person shooter developers id Software (DOOM) to present an adrenaline fuelled shooter filled with over-the-top action. Players will be able to explore a large open world filled with mutants, bandits and more. Use powerful weapons, such as the classic wingstick, vortex gun, smart rocket launcher, firestorm revolver and the mighty hyper cannon. Not only can you upgrade your weapons, but you'll also be able to gain superpowers that create even more heart-pumping moments in combat with moves like dash, stomp and more.
Take on the role of Walker, a ranger who must survive the dangerous world that is filled with mutants after the planet gets hit by a deadly asteroid. The game takes place 30 years after the events of the original game, with new and returning characters making an appearance throughout. Visit lush jungles, treacherous swamps and deserts as you pursue The Authority, a new military power that is vying for control over the wastelands.
Get behind the wheel of a variety post-apocalyptic vehicles such as Monster Trucks, Buggies, Gyrocopters and more. Anything that you can see in the game can be driven. Like with Avalanche Studios' Mad Max they'll be plenty of vehicle carnage and you'll be able to cause serious destruction to anything that stands in your way. Find Arks in the world to unlock powerful new upgrades and use them to make your arsenal even more deadly.
RAGE 2 Trailer Recap
Looking for a recap on all RAGE 2 trailers, gameplay videos and other videos you've missed? We've put together a playlist for all that below!
RAGE 2 PC Launch Times
Players will be able to play the game from tomorrow when the game launches at 12:01 BST / 1:01 am CEST, or if you're in the US you can play from 12:01 am ET. All customers will be able to preload the game immediately after purchasing the game from Gamesplanet.
Preload: - Available Now!
Launch Time (EU): - 12:01 am BST / 1:01 am CEST on May 14th.
Launch Time (US): - 12:01 am ET on May 14th
RAGE 2 PC System Requirements
Make sure your system is up to the task of running the game with the PC System Requirements for RAGE 2. We'd also recommend making sure you have the latest drivers for your Graphics Card to ensure the smoothest experience at release - AMD / Nvidia.
RAGE 2 PC Version Comparison
Not sure which version of RAGE 2 to get? Take a look at our handy version comparison guide to help you figure out which one is best suited your needs!
| RAGE 2 | Standard | Deluxe |
| --- | --- | --- |
| Main game (Bethesda.net Key) | | |
| Pre-Order Extras: Cult of the Death God Mission, Settler Gun, Mutant Monster Truck Skin, Nicholas Raine Armor | Pre-Order | Pre-Order |
| Rise of the Ghosts Expansion | | |
| DOOM BFG UAC Super Weapon | | |
| Wasteland Wizard Cheat Codes | | |
| Progress Booster | | |
| Battle Standard | | |
Those who purchase the Deluxe Edition will get themselves some extras suck as the the Rise of the Ghosts expansion, legendary DOOM BFG weapon, Wasteland Wizard Cheat Codes, Progress Booster and Battle Standard.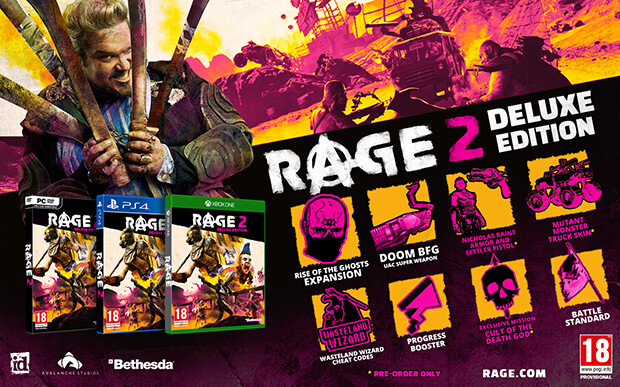 Rise of the Ghosts – An exciting campaign expansion to RAGE 2! Stay tuned for more details at a later date.
DOOM BFG – Get your hands on DOOM's big, friendly superweapon and eviscerate everything in your way in a flash of energy Marine-tested, Ranger-approved!
Wasteland Wizard Cheat Codes – You've been granted mighty new powers by the reclusive wasteland wizard! Utilize this collection of exclusive "cheat codes" to rule the wasteland.
Progress Booster – Kick into Overdrive! Get more bang for your bang with this wasteland Progress Booster.
Battle Standard – Strike fear into the hearts of your enemies as you race into combat with this imposing banner streaming from your vehicle.
RAGE 2 Pre-order Bonus
Pre-order any version of RAGE 2 from Gamesplanet to get the Cult of the Death God Mission, as well as the Nicholas Raine Armor and Settler Pistol, plus the Mutant Monster Truck Skin.
Cult of the Death God Mission – A wild ride sends Walker after a cult of crazed mutants who seemingly worship the image of Nicholas Raine - the hero of the original RAGE. Survive the sewers and fight through hordes of mutants, including the massive and monstrous Abadon Warlock.
Nicholas Raine Armor and Settler Pistol – Slip into Raine's legendary Arkist armor and relive the classics with his powerful Settler Pistol.
Mutant Monster Truck Skin – Run over enemies in style with this exclusive vehicle skin. The truck is self-cleaning, so don't worry about those pesky blood stains messing up the pearl coating.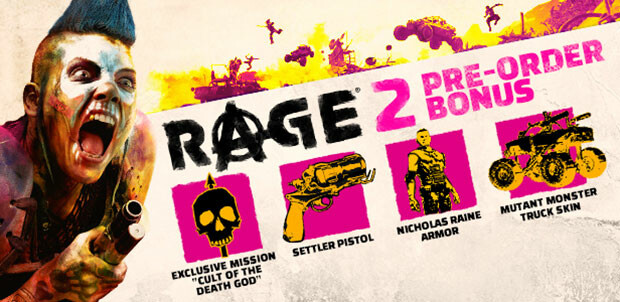 Problems with RAGE 2? We're here to help!
Getting a new game is an awesome experience and we want to make that as trouble free as possible, so we've put together a guide of common troubleshooting problems and FAQ's to help you out with RAGE 2 on PC. You can find our Help Topic here.