11 September, 2018 – CraigB

GP Team
Shadow of the Tomb Raider - Launch Trailer
Lara Croft makes her return this week as Shadow of the Tomb Raider arrives on September 14th. Experience the final part of the trilogy as she taackles a new threat to save the world from a Mayan apocalypse. She'll have to overcome a deadly jungle filled with danger, and yet again take on challenging tombs with some of the best in the series. In her final chapter can Lara stand against the darkness or will the world be plunged into shadow?
Take a look at a new launch trailer while you wait for release. You can also catchup with our review roundup to see what the critics are saying for Lara's latest adventure.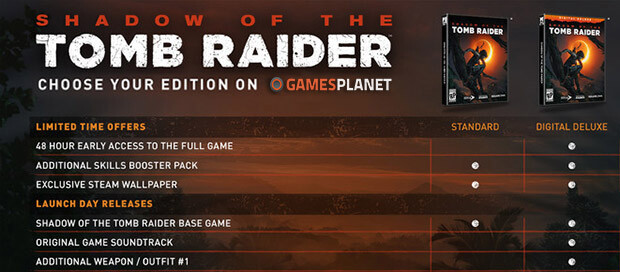 Can't wait until September 14th? Those who pre-order the Deluxe Edition will get 48hr Early Access to play from tomorrow (September 12th). Grab your key and start preloading the game right now!