21 October, 2022 – RafalM

GP Team
Silent Hill 2 finally coming to PC in its full glory with a Teaser Trailer
As a fan of horror games genre I can't stress enough how hyped I am for the fact that KONAMI decided to remake Silent Hill 2 and on top of that tasked BLOOBER TEAM (Layers of Fear, Medium, Blair Witch) with making it. Let me tell you now – Silent Hill 2 wasn't the same game on PC.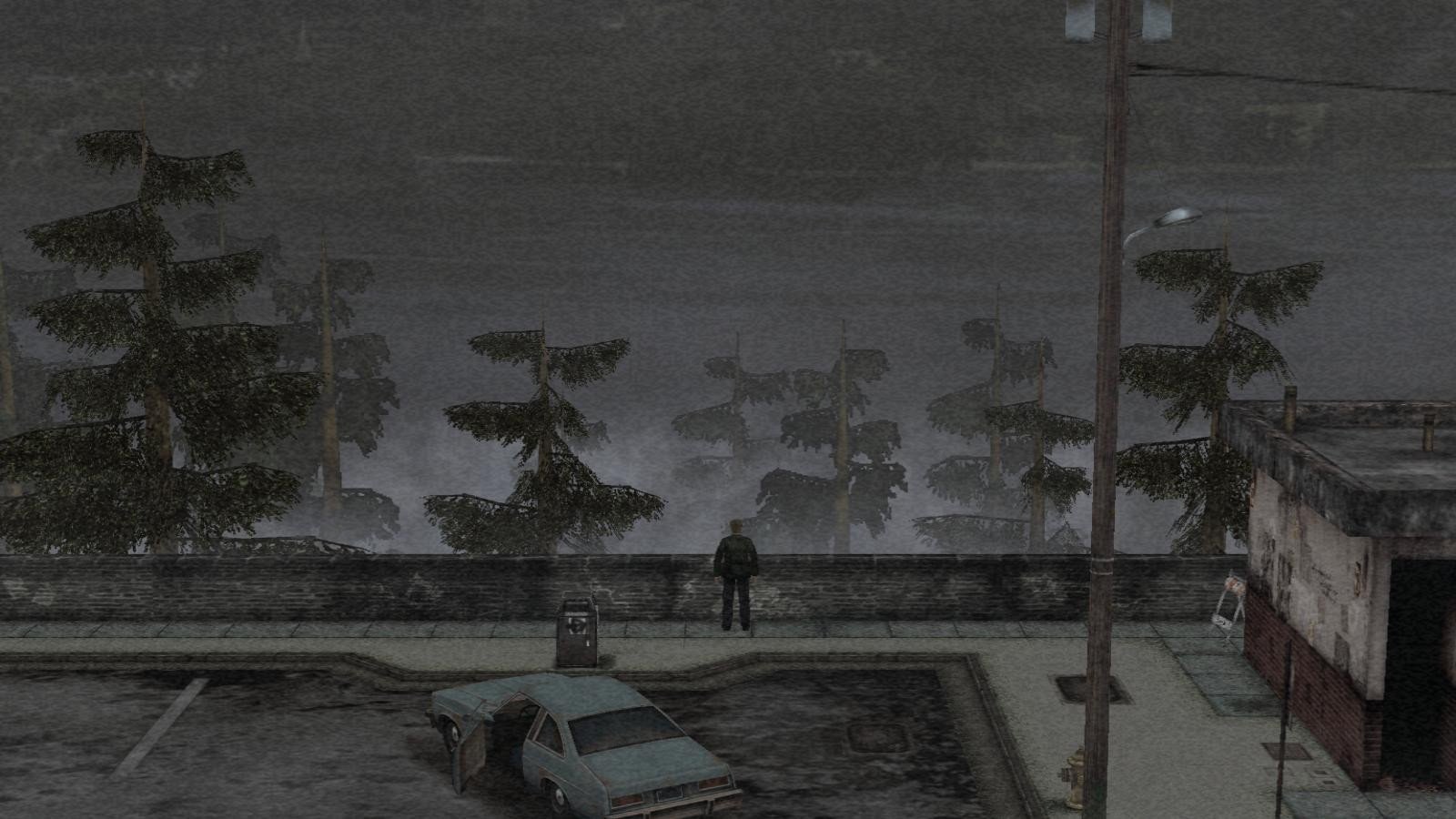 Original Silent Hill 2 is a perfected horror game in a design and a creative sense. When the game was first presented back in the early 2001 visually it was ahead of it's time. In words of Digital Foundry the game presented "a host of impressive visual effects quite unlike anything available at the time". Gorgeous screenshots printed in paperback gaming magazines certainly drew crowds but it wasn't the only impressive feature.
Story of the game starts out a bit cliché – James, a 29 year old, receives a handwritten letter from his wife in which she asks him to meet her in their "special place" which lies in a town of Silent Hill. In the introductory cutscene of the game James explains the caveat "Mary died of that damn disease three years ago"… As I've said it's a bit of a cliché but everything after that is far from it. It's a really well written story, full of metaphors, symbolism and hidden meaning. It feels that every aspect of design was well thought through and relates to the story. Something so simple as the first steps you take in the game – you go down the steps and downhill to reach the town as if you're descending the well known allegory of a rabbit hole.
In terms of design much of what you experience in Silent Hill could be classified as something taken out of nightmare, serving no purpose but to scare, confuse, intimidate. The town feels weirdly abandoned, some streets are just impassable, cut off, it's a labyrinth in which you slowly work out your way. You'll meet handful of characters along the way but they seem lost, confused, awkward or misplaced even or not caring much about where they are. They act as if they been living here but do not really belong making the whole picture very eerie. As a player you could tell them "you are not real, none of this makes sense" but it's like James acknowledges their existence for a reason.
All these story aspects should be carefully considered if you want to understand the game. You'll want to pay attention. The game wishes to confuse you or hide something which you (as James) are running away from. In the end you'll know what you went through and most of the confusing aspect will clear but not in a straightforward manner. There are number of details open for your interpretation and if after finishing you are still puzzled it's worth searching for answers and discussions.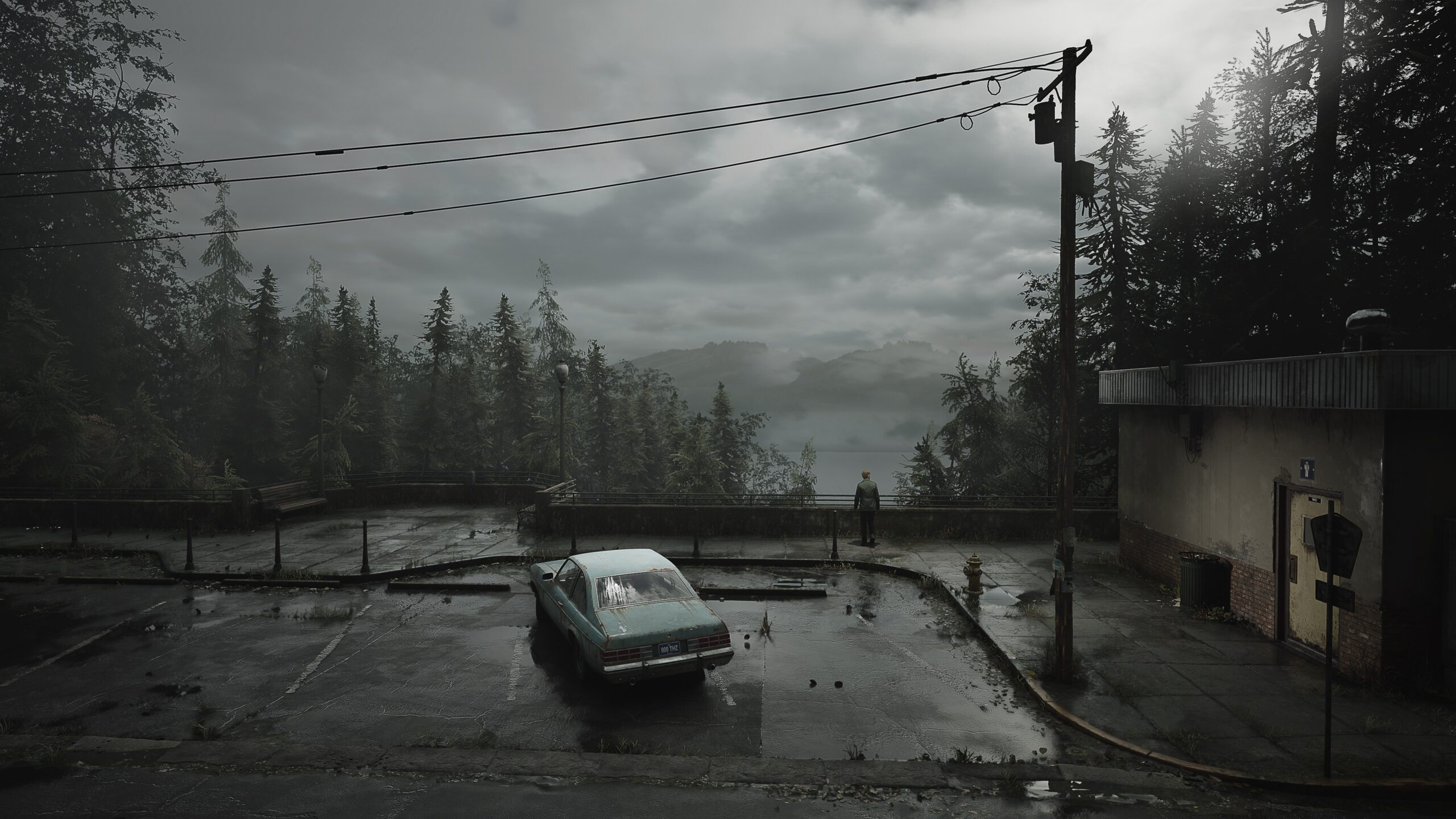 Then we have the audio. Soundtrack made by Akira Yamaoka a maestro which many (me included) consider him to be number one composer for music of your nightmares. While you move along through the story you will find emotions of being lost, confused and sad or even briefly cheered and for all these occasions Yamaoka delivers but when you descend down the stairwell of despair and mental agony you'll hear the unsettling industrial tunes that will make you feel completely lost in a place where you wouldn't want to be abandoned. I've played countless horror games and Yamaoka does stand out with his very characteristic "melody" where it makes you wonder what kind of instruments were used to make it. You won't hear the game soundtrack all the time, there are moments when everything goes silent. These moments are a testament to this man's talent as Yamaoka himself said in an interview: "selecting moments of silence is another way of producing sound".
The audio department deserves more praise than its OST alone. The game offered brilliantly executed audio effects and above that we have amazing voice acting. In the original version it is so unnatural that could mistakenly be attributed to an amateur work but it's actually well played and directed. This is another element that's there to make you feel awkwardly uncomfortable, to make these characters feel out of character.
After all of the above praise I'm getting to a point of this short piece. I hope to make one thing clear – what makes Silent Hill 2 a masterpiece is the overall design in audio, visual and storytelling. All are interconnected in many more ways than what you're used to in any regular game. Silent Hill 2 was made to be played on PS2 and CRT TV. The game was ported to other platforms in a form of HD remasters for Xbox 360, PS3 and PC. Sadly the game lost many audio-visual features in the process. While the textures themselves received an upgrade, the game was stripped of many important visual effects. Voice acting was re-recorder with different cast and lost much of it's original charm and quality. I'm not going to cover the details in the text but for those of you interested in the topic I highly recommend watching Digital Foundry video.
Given the above you could understand why PC gamers never really had the chance to fully enjoy Silent Hill 2. It really wasn't the same product. I finished SH2 about 5 years ago. I've done it on PC but I've had two solid attempts before on PS2 almost finishing it on that platform. Before I decided to give the game a shot on PC I asked reddit and the general reply was – "if you really don't have a choice". If BLOOBER TEAM does the job well, we finally may have a choice!
Silent Hill 2 will be available on PC and Gamesplanet soon.