13 October, 2017 – CraigB

GP Team
South Park: The Fractured but Whole Season Pass reveals new missions, costumes and more!
Ubisoft announces details for the upcoming South Park: The Fractured but Whole Season Pass, which contains new costumes, new challenges, 2 new story missions, combat buddies and more!
The gang of South Park are back next week for their second adventure as South Park: The Fractured but Whole, which will see them take on the Super Hero franchises to fight crime and save the day. Today Ubisoft announced new details for the upcoming Season Pass for the game, which will feature brand new stories, new costumes, combat buddies, perks and more!
First up will be the "Danger Deck" DLC, in which players will come face to face with the ultimate combat challenge in Doctor Timothy's Danger Deck. They will be able to unlock various costumes and artifacts, with the DLC arriving in December 2017.
Next up we have the "From Dusk till Casa Bonita" DLC launching in 2018 that will tell a new story, where players will team up with The Coon and Mysterion to defeat a demonic presence at Casa Bonita. Finally the "Bring the Crunch" will bring a new story, a new superhero class and is also releasing in 2018.
Additionally it's been revealed that Season Pass owners will get Day One content that includes the "Relics of Zaron" pack which contains a new costume and perks. Anyone who pre-orders the game will get the "Towelie: Your Gaming Bud" pack that gives you in-game tips provided to you by Towelie. This will also be available from October 24th if you miss out on the pre-order window.
The Season Pass will launch on October 17th, the same day as the game launches. If you purchase the Gold Edition then you will automatically get all the Season Pass content so there's no need to buy it separately.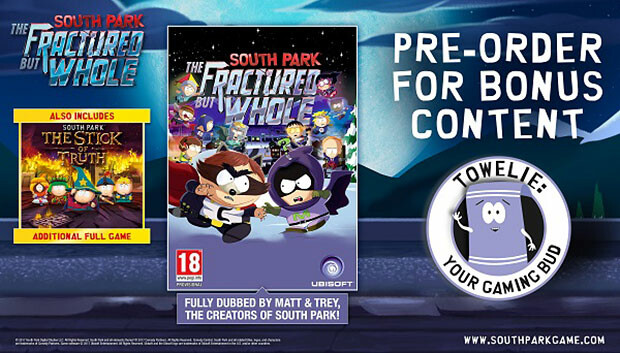 South Park: The Fractured But Whole is launching on October 17th, you can pre-order the Standard or Gold Edition. The preload is available right now so you can begin downloading right now ahead of release! You will also get a free copy of South Park: Stick of Truth after purchase, and Towelie your gaming buddy as a bonus (when the game launches).