20 November, 2015 – CraigB

GP Team
Gamesplanet Review Round Up: Star Wars Battlefront
A long time ago in a galaxy, far, far away....
It's been 10 years since the last Battlefront game and now the wait is finally over. Star Wars Battlefront is a reboot to the 2004 hit of the same name, it's been created by the wonderful people over at DICE and is being published by EA. Over 2 years of work has gone into making this reboot live up to the standards set by both the original and Battlefront II, the question on everyone's mind did the game manage to do that?
After playing some of the beta last month I'd already experienced a small taste of the game, now that the final game is out I have had the pleasure to play more of it and so far things are looking good. With a host of modes such as Cargo, Droid Run, Fighter Squadron, Hero Hunt, Walker Assault and more there is a variety to do. A game like this is not something a few hours of play can really answer though, so let's take a look at some of the reviews.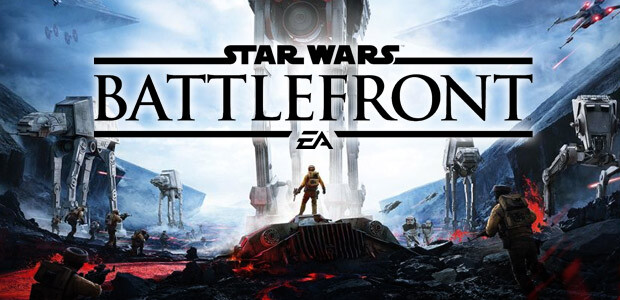 First up we have GameCrate who gave it a score of 8.25. They really enjoyed the gameplay by comparing it to previous DICE titles as well as sharing similataries with the Pandemic studios original Battlefront titles, in particular the 3rd person mode makes a welcome return and can be switched on the fly in battle should you need an edge. "There may be times when the balance seems off – especially when a Hero enters the fray – but overall, the gameplay feels great." Sound design is another key highlight, everything from lightsaber swooshing to X-Wing's swooping is recreated in perfect detail. Some problems are present in the voice acting as it at time feels out of place but when you're putting it together, it's a minor complaint. The John Williams theme ties everything together as one would expect in a Star Wars game, it's just like being in the cinema. "Star Wars Battlefront is an engaging multiplayer experience that will certainly make your holidays."
Over at GamesRadar+ the review was also positive, in particular they enjoyed the simplicity of the shooting calling it accessible for everyone. Gone are the high skill level play that most first person shooters require, instead you have the same skills everyone else whether you're aiming down the sights or shooting from the hip. Some players might find this laid back approach lacking and may not have the same appeal to them, what it does offer though is something anyone can get into and play around with. "Battlefront is specifically designed to welcome players of all capabilities with open arms, and it gives them the tools to score just as many points as the hardcore." Game modes were also appreciated with Walker Assault being a highlight, most modes rely on a simple thing but Walker Assault features AT-AT's, Hero characters, vehicles, wide open spaces and plenty of action, it's how a battle in Star Wars should be. While we may have not have a Space Battles mode (perhaps one for DLC?) it's clear this mode is the closest we'll get to reliving classic moments from the movies. "What Walker Assault does is combine everything in a single, massive battle, and it's all the better for it - win or lose, you'll have a bloody brilliant time because everyone contributes in some way." They awarded it 4 out of 5 stars.
Why didn't they send anyone with me? :(
Next up the folks at Giant Bomb were a little disappointed, "Battlefront initially checks all of the boxes for being a great Star Wars game, but its limited amount of content and lack of meaningful progression kept me from wanting to return for more than a brief visit." Some praise was given though, especially regarding the selection of hero characters available to the player. You have 3 per faction, Luke Skywalker, Princess Leia or Han Solo for the Rebels and Darth Vader, Emperor Palpatine, and Bobba Fett."Inhabiting any of these six characters is enough to turn the tide of battle, and playing as them does a great job of making you feel powerful." While you do not always have these available to you there is one mode that let's you do battle "hero vs hero" but for the most part you'll end up having to play most battles without being them, each one is unique and has a set of skills suited to them which make them feel like they stepped out of the movies. It was given 3 out of 5 stars.
Rounding us out we have GameSpot who scored it 7 out of 10. Calling it a homage to Star Wars, a game that looks like just like the films, "developer DICE has crafted a nuanced, detailed world begging for a closer look, enveloping you at every turn. Rain glistens on drooping leaves. Icy crystals extend from cavern walls. You can even see clouds of dust billow across Tatooine's arid scenery." Another thing about Star Wars Battlefront is the progression system, you level up and unlock various skin items and weapons as well as traits. One of the biggest unlocks is the jump jet, which let's you easily navigate tricky terrain or escape a deadly encounter. Traits can be used to mask you from the radar, give you explosive damage resistance or more, because you can equip these on respawn you can change to better suit the situation and perhaps even the odds. Despite some good points, the game has some issues and things like vehicles sometimes feel out of place during a battle, various levels have great visual appeal but lack cover at times making it a run into gunfire moment. "Star Wars Battlefront's skin is beautiful, but its legs are shaking, and threaten to buckle with time."
All I have to do is point at you.
The Force doesn't appear to be strong with this one, fans of the franchise are still going to enjoy it regardless of critics. I feel like I'm playing a Star Wars game and though it's got issues you can easily get past those to experience a battle set in the Star Wars universe. Playing in teams of 20 v 20 brings a sense of war to a game, something that not every game manages to achieve. I am glad the franchise has returned, having loved every moment of Battlefront II, I welcome the change. There is plenty for everyone, from dog fighting in the skies above Tatooine to Rebels fighting an AT-AT on Hoth. A single player mode would have been a nice addition and something I had hoped they would manage to include, while it might not be something to last you for years it'll certainly keep you busy till The Force Awakens opens up next month.
We also have a competition going on to win a copy of BB-8 or Star Wars The Complete Saga on Blu Ray via our Facebook. The draw closes on Thursday, November 26, 2015, 23:30 - Terms and conditions apply. May The Force be with you!