18 May, 2017 – CraigB

GP Team
TESO: Morrowind Upgrade - Version Comparison
Bethesda's upgrade policy confuses even experienced TESO players: What upgrade package is right for you?
What are the different Morrowind editions for The Elder Scrolls Online? And with which can you play in the early access phase? We've fought our way through the deep Morrowind Jungle with our machete in hand to deliver the facts to you!
Before you dive into the world of TESO: Morrowind then you'll be needing either TESO: Gold Edition or TESO: Tamriel Unlimited.. Both editions will allow you to play the game without subscription fees (not like World of Warcraft's pay per month plan).
Note: You can also buy buy Morrowind with the base game if you prefer that, but these will not include the Early Access starting on May 22nd.
On June 6th, players will once again be able to jump into the world of Vvardenfell from the classic The Elder Scrolls: Morrowind as it comes to The Elder Scrolls Online for the first time! Whether or not you'll be starting fresh in TESO or plan to upgrade then it depends on a number of things, but for those who do end up upgrading then they will be able to participate in the Early Access period from May 22nd.
If you are purchasing The Elder Scrolls Online: Morrowind Standard or Digital Collector's Edition, then you will not be able to join in the Early Access period. However you may still enjoy the pre-order bonuses and all the content of TESO: Tamriel Unlimited until it launches on June 6th. Only those who are already TESO players and want to upgrade to Morrowind can choose between two upgrade packages and get access to the early access phase by purchasing an upgrade edition.
To help ease your choice even further we've put all the editions into one lovely table to show what is contained in each one. If you still have questions on anything then feel free to ask us and we'll do our best to help you out!
The Elder Scrolls Online: Morrowind – Version Comparison
Pre-order Bonus Content (Discovery Pack)
The Discovery Pack will be free to everyone who pre-orders TESO: Morrowind (Standard or Upgrade), including those who pre-order one of the Collector's Editions.
Exclusive Warden Costume – An exclusive costume available for all classes that matches the Warden's outfit as seen in the announcement trailer.
Dwarven War Dog Pet – A unique armored non-combat in-game pet.
Treasure Maps – Maps detailing the location of Vvardenfell's greatest rewards.
Dwarven Crown Crate – A special Crown Crate with a chance to contain Dwarven-themed mounts, pets, costumes, and more.
Experience Scrolls – Advance through Vvardenfell gaining 50% more experience points for two hours.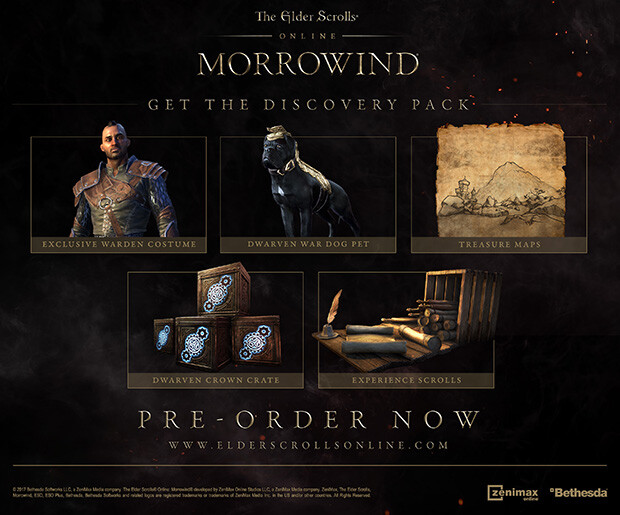 TESO: Morrowind Collector's Edition Content
In addition to the extras from the Discovery Pack, you will be able to get even more bonus items with the Collector's Editions for the game - including a Gray Bear and a Dwarven Spider pet!
Collector's Edition Grey Bear – An exclusive grey War Bear for use while playing as the Warden.
Armored War Horse – Players can charge into battle atop this steed clad in armor fashioned with ancient Dwarven plate.
Dwarven Spider Pet – A personal Dwarven Spider is ready for adventure through Vvardenfell.
Morag Tong Converter – Players can flaunt their commitment to the assassins by customizing their gear with the distinct style of the Morag Tong.
Character Emotes – Celebrate victory in the battlegrounds with this bundle of exclusive emotes.