20 January, 2017 – CraigB

GP Team
Tom Clancy's Ghost Recon Wildlands: Single Player Gameplay Walkthrough Video
Lead game designer Dominic Butler takes us on a tour from the Single Player perspective of a player in Ghost Recon Wildlands in which you'll have freedom to pick and choose how you take on various objectives. When you open up the map you'll see plenty of activities you'll be able to engage in (much like Far Cry 3 it seems), with a massive open world to pick and choose there is so much to see and do.
Playing solo will always have 3 AI teammates helping you out with your mission, great for those without friends to play with. As with any Ghost Recon game your squad is important and just like previous entries in the series you'll be able to command them to do various things such as holding position, regroup, moving position or engaging an enemy.
The game has a fantastic day/night & weather system which will constantly be changing around you, giving you a sense of tense action when it's a dark stormy night and your visibility is low. During the game you'll be able to customize your weapons on the fly to suit any situation - maybe you'll prefer a silenced weapon for your mission or a heavy weapon to dish out maximum damage.
Be sure to signup for a chance to play the beta when it's available - http://www.ghostrecon.com/beta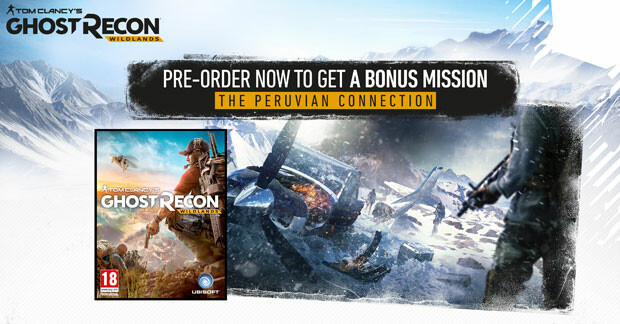 Tom Clancy's Ghost Recon Wildlands is out on March 7th for PC, Xbox One and PS4. Pre-order the game today to get the Peruvian Connection Bonus Mission for free!