21 February, 2017 – CraigB

GP Team
Open Beta Pre-load Now Available!
Suit up Soldier!
Tom Clancy's Ghost Recon Wildlands is fast approaching and you won't have to wait long to test this massive open world shooter for yourself since the Open Beta goes live this Thursday! To prepare you can start pre-loading the beta ahead of the launch on February 23rd.
Just load up your Uplay client and look for "Ghost Recon Wildlands - Open Beta" in your Library. Click on this and you'll notice a blue button that says "Preload", hitting that will begin the download (note you'll need at least 24 gigs of HDD space to download). If you've already installed the Closed Beta you'll need to update with a 19 gig patch.
The open beta, which runs from Feb 23rd - Feb 27th will give players a chance to play in two regions from the game. Itacua province will make it's return from the Closed Beta, but now you'll also be able to experience the Montuyoc province so you can experience more of the final game. Additionally by playing in the open beta and purchasing the full game before March 31st you can unlock the Unidad Conspiracy bonus mission which will see you involved in a war between the militia group Unidad and the Santa Blanca cartel.
Open Beta Launch Times
Servers will go live on February 23rd at the following times:
PST – 3 am
EST – 6 am
GMT – 11 am
CET – 12 pm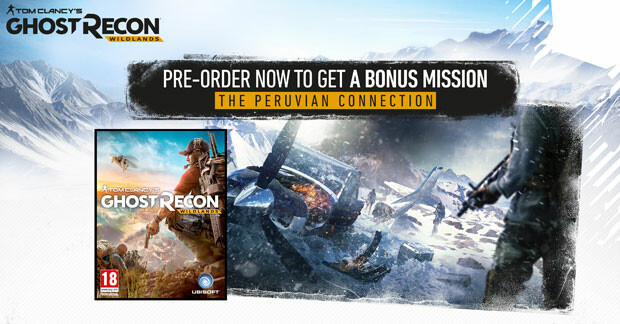 Tom Clancy's Ghost Recon Wildlands will be available on March 7th, you can pre-order and get The Peruvian Connection bonus mission for free!