02 March, 2017 – CraigB

GP Team
Ghost Recon Wildlands - Post Launch and Season Pass Revealed!
Only 5 days to go until Ghost Recon: Wildlands arrives, but that's not the end as the game will continue to receive content after launch including paid DLC and free updates!
After launch the game will get a 4v4 PVP mode that will let players duke it out in team matches to see who the ultimate ghost is. There will also be two major paid expansions: Narco Road and Fallen Ghosts with Season Pass owners getting access to these a week early, as well as other bonuses such as a permanent XP boost, 800 credits, and more!
In Narco Road, you must infiltrate a gang of smugglers and earn their leader's trust by competing in races and challenges. Yes, you have to take them down…from the inside! Fallen Ghosts, the second major expansion for Wildlands, has your squad running from their downed helicopter to escape some powerful new enemies that are hot on their trail.
Season Pass
The Unidad Conspiracy missions: Players will work to break down and destabilize the alliance between Santa Blanca and Unidad in the Media Luna province.
The Peruvian Connection pack: Players will be able to play through the Peruvian Connection mission as well as receive seven gear patches.
Rebellion Ghost Pack: Players can don an outfit inspired by the brave Katari 26 rebels. They will also unlock a unique AK-47 equipped with a bigger magazine and customized with unique engraving work.
Unidad Ghost Pack: Players dominate enemies with an Unidad outfit so they can attack Unidad camps dressed just like one of them. They will also unlock a unique Unidad LMG weapon, customized with the colors of Unidad, and equipped with a red dot scope and a larger magazine.
Santa Blanca Ghost Pack: With a Santa Blanca-inspired outfit, players can mimic their style without joining their ranks. This pack also unlocks the Santa Blanca golden M1911, customized with engravings and the mark of the cartel, for players to unleash chaos on the cartel.
Exclusive vehicle: Bolivian Minibus
Plus owners of the Season Pass will also receive a permanent 5% XP booster as well as a one time use booster that allows the player to gain 50% XP and 25% XP for his team that lasts for 2 hours.
Paid DLC Packs
Narco Road
The game's first true expansion will see you tear through Bolivia using new vehicles in a set of action packed high speed missions. As you progress in the story there will be 3 gangs trying to be put a stop to you so it will be your job to put an end to them once and for all by killing their leaders, until you reach the man at the El Invisible and end it for good!
Narco Road will include more than 12 new missions across 4 provinces, new vehicles, new weapons skins, and side activities. Best of all, just like the main game you'll be able to play it either in co-op or solo. Season Pass owners will be able to try the DLC a week before anyone else as it'll be made exclusively available to players before the release date.
Fallen Ghosts
In Fallen Ghosts your skills will be put to the ultimate test, after your chopper is is shot down during a rescure mission it will be up to you and yorr squad to adapt as you are tracked down by Los Extranjeros, an elite group of ruthless mercenaries. Luckily you will have at your disposal a host of brand new weapons and like Narco road, Season Pass owners will get it a week before others.
Free Content
Unidad Conspiracy
If you've been able to participate in the closed or open beta you'll be able to unlock the Unidad Conspiracy, if you purchase and play the game before March 31st. This will grant access to a set of new missions in the province of Media Luna, in which the Ghosts will have to go after a mysterious Unidad captain, El Comandante. All season pass owners will also be granted this content when it releases in the month of April but if you were in a beta event you can get early access to it :)
PVP
And finally, Ghost Recon Wildlands will be delivering a PVP mode later in the year which will see two teams of four fight it out to see who the ultimate fighter is. Details are scarce at the moment but we're promised to get more in the near future! What we do know is that the mode will be available within a few months after launch.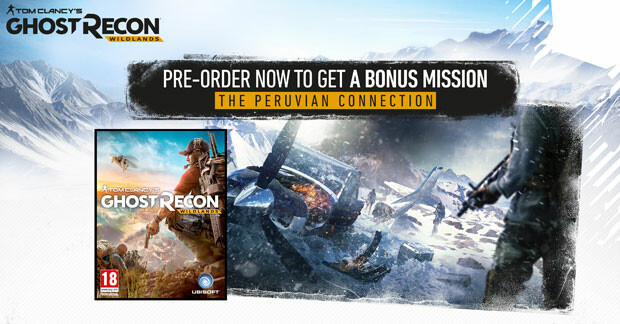 Ghost Recon Wildlands arrives on March 7th, you can pre-order today to receive The Peruvian Connection for free!