04 August, 2022 – CraigB

GP Team
Get ready for school with Two Point Campus arriving August 9th!
The school term is about to begin as Two Point Campus opens up their doors on August 9th. While we wait, SEGA have revealed the launch trailer a few days early so we can feast on what awaits us next week.
As with their previous release Two Point Hospital players are given freedom to make their very own buildings, customise and shape the game with your actions. One major addition to the game is that you can now build outside - giving even more player choice. Of course we know that with college life that means various activities to take on and Two Point Campus is no slouch in that department either with cookery, sports, and even music to behold there's something for everyone!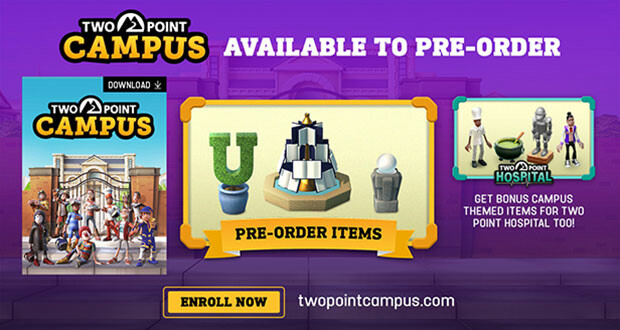 Two Point Campus launches on August 9th 2022, pre-order to get your Steam key right away and secure pre-order bonuses for launch!