22 March, 2019 – RafalM

GP Team
Vampires: The Masquerade - Bloodlines 2 coming March 2020. Pre-order today!
At the GDC 2019, Paradox Interactive announced it's big hit Vampire: The Masquerade - Bloodlines 2. The publisher is most known from their genre of strategy games decided to invest it's resources and devote time into its role-playing games department. They took the inspiration from popular pen-and-paper role-playing games of White Wolf , the "World of Darkness". Although the content of the Bloodlines series slightly differ the typical vampire: The Masquerade scenario. Bloodlines 2 is developed by Hardsuit Labs (Blacklight: Retribution). Watch the announcement trailer for Vampire: The Masquerade - Bloodlines 2 here.
Pre-order extras for Gamesplanet customers!
Just announced at the GDC and now already available at Gamesplanet for pre-order. We offer three different editions at a discount. Each pre-order edition comes with the First Blood Preorder Package. That includes: an Original Soundtrack, Retro Hunter Outfit, Civil War Saber Weapon Skin and Engraved Pistols Weapon Skin. Vampire: The Masquerade - Bloodlines 2 will be released in March 2020, according to the publisher.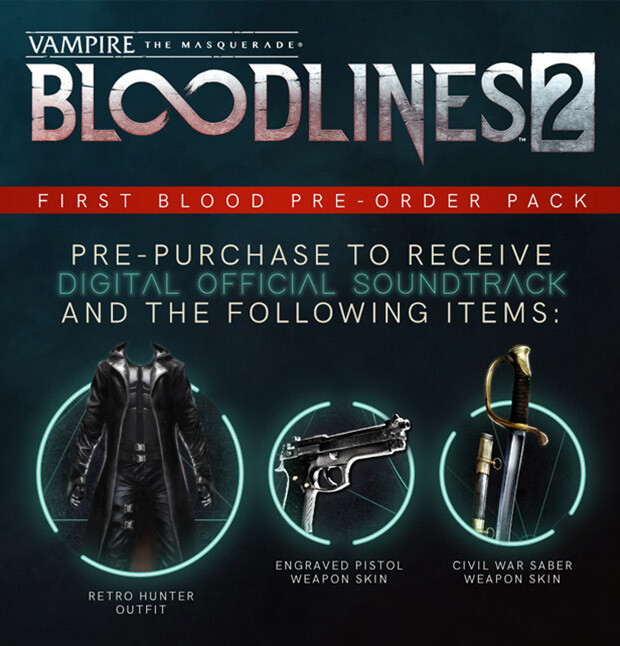 Vampires: The Masquerade - Bloodlines 2 Features
Become the Ultimate Vampire
Immerse yourself in the World of Darkness and live out your vampire fantasy in a city filled with intriguing characters that react to your choices. You and your unique disciplines are a weapon in our forward-driving, fast-moving, melee-focussed combat system. Your power will grow as you advance, but remember to uphold the Masquerade and guard your humanity... or face the consequences.
Descend into Seattle's Dark Heart and Survive the Vampire Elite
Seattle has always been run by vampires. Hunt your prey across Seattle locations faithfully reimagined in the World of Darkness. Meet the old blood founders present since the city's birth and the new blood steering the tech money redefining the city. Everyone has hidden agendas - so choose your allies wisely.
Enter into Uneasy Alliances
Choose a side among competing factions, each with their own unique traits and stories, in the war for Seattle's blood trade. The world will judge you by the company you keep, but remember no one's hands stay clean forever.
Experience the Story
Written by the creative mind behind the original Bloodlines, Vampire: The Masquerade® - Bloodlines™ 2 brings the ambitions of the first game to life and sees the return of a few fan favorite characters.