28 May, 2019 – CraigB

GP Team
Warhammer: Chaosbane - Story Trailer
Chaos is looming on the horizon and heroes must band together next week to drive back the Dark Gods when Warhammer: Chaosbane launches on June 4th. Take on a world ravaged by magic in the upcoming action co-op hack and slash game set in the Warhammer universe. Play solo, or team up with up to 4 friends in local and online co-op. Learn more about the story while you wait for the release with a trailer giving us a glimpse at what we can expect next week!
Warhammer: Chaosbane Features:
THE FIRST HACK AND SLASH set in the Warhammer Fantasy world, told through an all-new story written by Mike Lee (a Black Library author) and featuring a soundtrack composed by Chance Thomas.
FEROCIOUS BATTLES: from the sewers of Nuln to the ruined streets of Praag, fight your way through monster hordes using over 180 different powers. Activate your bloodlust, a devastating skill, to escape the most perilous situations.
4 CHARACTER CLASSES, each with unique skills and customisation: a soldier of the Empire who can take heavy damage, a Dwarf specialising in melee combat, a High Elf who deals ranged damage by manipulating magic or a Wood Elf who lays deadly traps and wields the bow like no other!
AN XXL BESTIARY with over 70 monsters aligned with the Chaos Gods and unique bosses. Battle Nurgle's minions, Khorne's spawn and waves of other vile creatures!
OPTIMIZED FOR CO-OP: solo or with up to 4 players, local or online, the class synergy and interface have been designed for co-op. Combine different skills and powers to create even more devastating effects.
HIGH REPLAY VALUE: Story mode, a boss rush mode, countless dungeons and regular updates offer a rich and varied gaming experience. And with 10 difficulty levels, you can find the right challenge to test your abilities.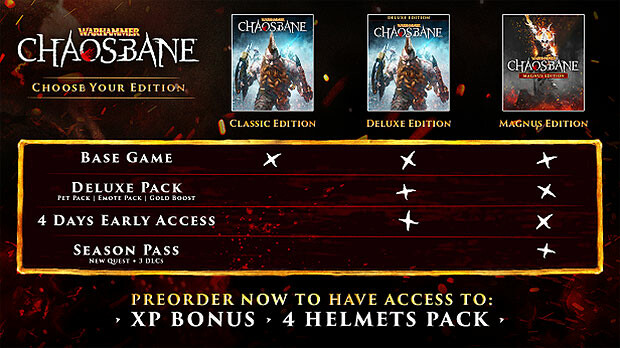 Warhammer: Chaosbane launches next week on June 4th. Pre-order any version of the game to get bonuses - including Early Access on May 31st if you purchase the Deluxe or Magnus Editions!