30 May, 2019 – CraigB

GP Team
Warhammer: Chaosbane End-game and Season Pass Info revealed
Find out more about the post-launch content coming to the action hack and slash game Warhammer: Chaosbane, after the release on June 4th. Season Pass and End-game details revealed.
The Chaos hordes prepare for battle when Warhammer: Chaosbane launches next week on June 4th. Before that however, developer Eko Software and publisher BigBen Interactive have revealed a little about what players can look forward to post-launch, including details on the Season Pass and various End-game modes that add greater rewards for tougher challenges. Take a look at the new video for an in-depth explanation of the content coming to the game.
Warhammer: Chaosbane Endgame and Season Pass Info
Season Pass - 4 Pieces of Post-Launch DLC Content
Cosmetic Pets
Cosmetic Emotes
An alternative God Skill Tree for each character (new passive and active abilities, new ways to build your character, by making offerings to a new god).
Entire new act to the game (new location, new enemies, new story - unrelated to the main campaign).
Note: Season Pass content is currently not in development and will be started after the launch of the game.
Non-Season Pass Updates
Aside from Season Pass content the game will also receive a number of free post-launch updates after release, such as a hardcorde permadeath mode, new difficulty levels and the addition of a post-level cap leveling system. There's also plans to add additional heroic sets to the game that will be available for those who seek the tougher difficulty modes.
End-Game Modes
Boss Rush
The first end-game mode available is "Boss Rush", which allows players to farm certain bosses in the game that they have previously defeated. This is quite handy if you're after a certain piece of loot from a boss.
Boss Rush Mode allows you to farm out certain types of gear by aiming to take on the bosses you've previously defeated.

Expedition Mode
Explore randomly generated maps in "Expedition" mode and collect fragments needed to power up your gear. There's also a number of random events taking place in the world which offer even greater chances at rewards, but may be more challenging.

Relic Hunt Mode
The other mode available at the end game is "Relic Hunt", which offers large loot and fragment rewards. This mode will also add a number of clear conditions to levels, such as losing health as soon as you stop moving and random poison zones spread throughout the map.

Random poison zones across the map

You lose health as soon as you stop moving

Every time a hero uses a potion, his maximum health decreases permanently in the dungeon

Every time a hero takes damage, his armor decreases permanently in the dungeon.

When enemies life bars are low, they gain a few seconds invincibility.
Relic maps can be purchased using in-game gold, but will be quite a challenge so be sure to be ready to face whatever comes your way!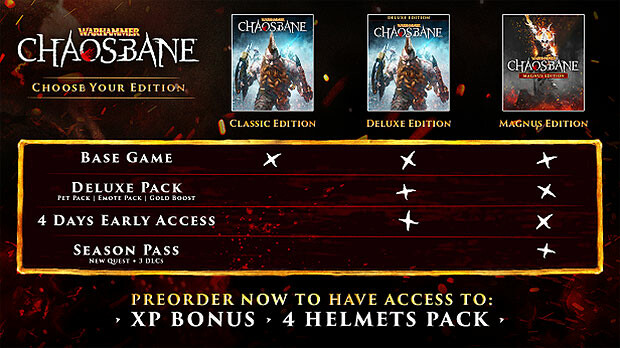 Warhammer: Chaosbane launches next week on June 4th. Pre-order any version of the game to get bonuses - including Early Access on May 31st if you purchase the Deluxe or Magnus Editions!