14 November, 2016 – CraigB

GP Team
Watch_Dogs 2 - The First 21 Minutes of Gameplay
Not long to wait now, Watch_Dogs 2 is making it's console debut tomorrow (with PC coming on November 29th) and IGN have given us a look at the first opening moments of the game, see how Marcus starts his journey as he tries to break into a ctOS Facility and delete his data from being used against him.
Additionally the game has had high praise with early reviews, many critics are awarding it 8's and 9's. Let's hope the PC version can also live up to this when it's released last this month.
Scores at present:
Polygon - 8
GameReactor – 9
Segment Next - 9
IGN – review in progress
Eurogamer Italy – 8
God is a Geek – 9
We Got This Covered – review in progress
GameSpot – review in progress
Ibtimes UK - 4.5/5
The Sixth Axis – 9
USGamer – review in progress
Xbox Achievements – 8.5
Pocket Lint - 4/5
GamesRadar+ – review in progress
Forbes - 9
Metro - 8
Attack of the Fanboy – 4/5
(Source: VG24/7.com)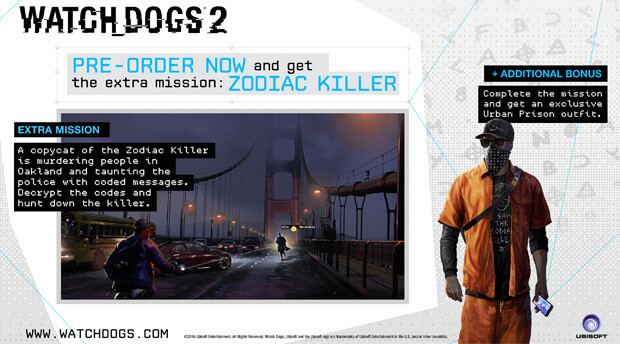 It's still not too late to pre-order and receive access to the Zodiac Killer Mission for free!