Description of Iratus: Lord of the Dead - Supporter Pack
Buy Iratus: Lord of the Dead - Supporter Pack as a Steam key at Gamesplanet.com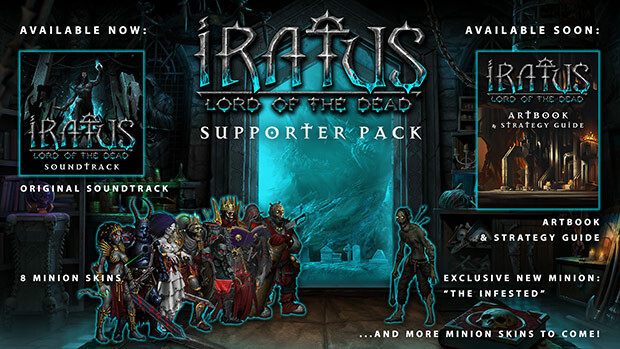 This is a collection of bonus content for those who wish to go the extra mile to support the developers of Iratus: Lord of the Dead. As the game evolves, more items will be added to the Supporter Pack during the Early Access period.
What do I get as a supporter today?
The entire "Iratus: Lord of the Dead" soundtrack. Gloomy, foreboding and evocative: Feel like the vexed necromancer Iratus himself while listening to the game's epic soundtrack!
Exclusive skins for some of your minions. Would you like your undead servants shiny, more putrid or extra repulsive? These skins give you more options to assemble the undead freak show of your dreams. What will I get in the future?
The official "Iratus: Lord of the Dead" artbook and strategy guide. Get exclusive insights into the development history of Iratus and tweak your tactics to beat even the most difficult challenges the game has to offer!
An entirely new minion called "Infested". This one is still super-secret, but trust us, it's not a pretty sight…
Thank you from the bottom of our hearts for your support!