Description of Syberia 3 Deluxe Edition
Buy Syberia 3 Deluxe Edition as a Steam key at Gamesplanet.com
Syberia 3 Deluxe Edition includes: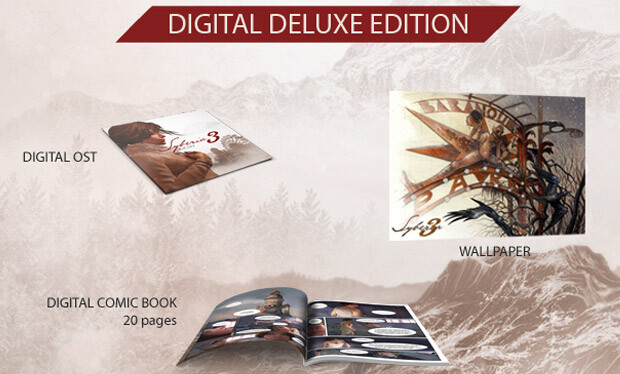 Digital Standard Game
Digital Soundtracks (*mp3)
Exclusive Digital 20 first pages of the next Comic Books (*Pdf)
Digital 1 Wallpaper
---
Author and creator : Benoît Sokal
The limitless imagination of Benoît Sokal continues in Syberia 3, focusing on an entirely new adventure. After abandoning the island, Kate is found dying on the edge of a river by the Youkole tribe, a nomadic people migrating with their snow ostriches. Stuck in Valsembor village, together they must find a way to continue their journey in a race against their enemies and unexpected obstacles, not to mention Kate's past, which catches up with her.
The next generation in adventure games, Syberia 3 takes you inside an enchanting, mysterious universe full of life for you to explore in 3D. Plunged into the heart of a world inhabited by a cast of interesting characters, you'll discover and experience a fabulous tale as imagined by Benoit Sokal.
Syberia 3 Features
A brand new tale, completely different from the first two Syberia games.

Exceptionally immersive storytelling, multiplied by Benoit Sokal's unparalleled artistic direction

Explore Benoit Sokal's poetic universe in 3D for the first time

Original score by Inon Zur (Syberia 2, Fallout, Dragon Age, Prince of Persia)

Original, real-time 3D puzzles and mysteries
Previously in Syberia
A lawyer in NYC, Kate Walker was sent to Europe on a simple mission that gradually transformed into personal quest, an adventure that led her on a voyage aboard a locomotive bound for the reaches of the Europe. Accompanied by a robot named Oscar, she fulfilled inventor Hans Voralberg's dream, searching for the last mammoths all the way on the legendary island of Syberia.