22 April, 2020 – CraigB

GP Team
Desperados III loads the gun for a June 16th release!
The renowned real-time tactical franchise Desperados is riding towards the sun this summer with Desperados 3. In real time, you'll have to be patient until June 16th 2020, as THQ Nordic revealed the actual release date along with a brand new John Cooper trailer. The developers are now putting the spurs on the eagerly awaited title - and you can pre-order the Deluxe Edition from Gamesplanet now for the price of the Standard Edition (Wallet Cashback included)!
Desperados 3 Deluxe Edition pre-order treats
Pre-order Desperados 3 Deluxe Edition and get it for the same price as the Standard Edition, with some fine extras and wallet credit worth £4.49 / $4.99 from Gamesplanet. You'll also get the following:
Main game: Desperados 3 (Steam Key)
75 track soundtrack, with more than 2.5 hours of material
Season Pass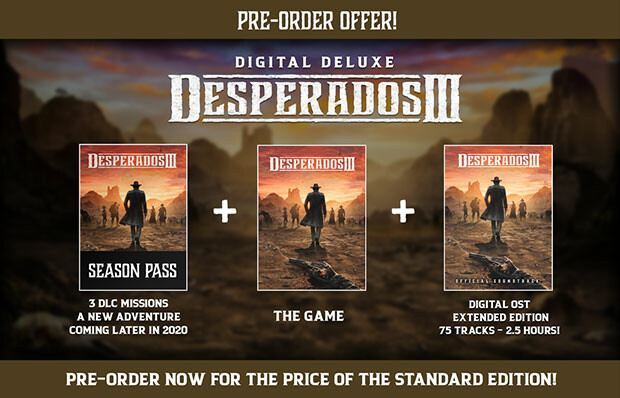 Desperados 3 Features
Play five unique characters, each with a very particular set of skills
Experience true freedom of choice with countless different ways to overcome any obstacle
Defeat large groups of enemies with careful planning and execution
Witness the glory of classic Wild West scenarios like frontier towns, mysterious swamps, sprawling modern cities, and many more
Choose between non-lethal and deadly attacks, stealth and blazing guns
Adjust the game to your playstyle with various difficulty settings and special replay challenges
The Showdown mode allows you to pause the game anytime and react to ambushes or surprise attacks
Ride into the sunset with Desperados 3 on June 16th 2020 and pre-order the Deluxe Edition now to get bonuses!
Source: https://www.youtube.com/watch?v=jwyYiURDMtY&feature=emb_title