13 February, 2019 – CraigB

GP Team
Far Cry: New Dawn - Customization Trailer and Expedition Gameplay Footage
Get a look at the customisation coming to Far Cry: New Dawn and see one of the Expedition Missions in Co-op action with over 20 minutes of new gameplay footage.
Customisation will play a big part of the upcoming Far Cry: New Dawn, as you scavenge the world to build weapons, vehicles and more. As you explore a post-apocalyptic world you'll find new tools to build your base up and gain access to even more powerful vehicles and weapons. You can even customise each one with different looks to give them a personalised touch. Unlike the previous Far Cry 5, this time around there's more focus on building up weapons and using the resources available to craft new items from scratch. Building up your home base of prosperity will allow you to upgrade things even further, with various tiers of weapons that will deal more damage and may have bonuses. One such weapon that players will find is a powerful saw launcher, that is a crossbow that fires out deadly saw-blades are unsuspecting foes that may try to cause you harm.
The game will also offer "Expeditions", which are isolated missions that take place in new areas including places like California, Louisiana and more. These missions will provide a break from the main campaign and can be done solo, or with friends in co-op. If you want to get an example of how these missions will work, take a look at the new gameplay video from GameSpot who have managed to get hands-on footage from one of the mission. In this mission players will be taking on a familiar location as they locate the downed Paladin (from Splinter Cell: Blacklist).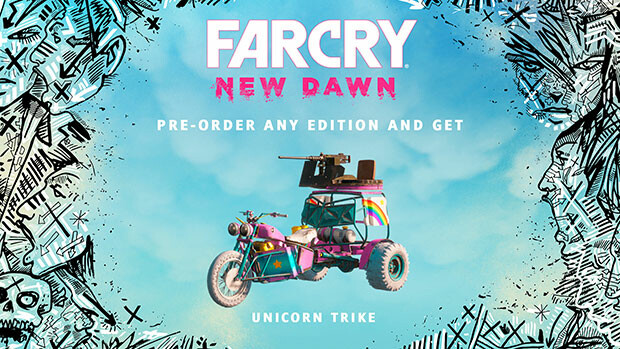 Far Cry: New Dawn launches later this week on February 15th. Pre-order the game today to save and get bonuses! You can also start preloading the game while you wait for game to release. Not sure which version to get? Take a look at our version comparison guide to help you out!