11 August, 2019 – CraigB

GP Team
Gamesplanet Summer Sale 2019 Encore Guide
You still have time to decide!
It's almost time to wave goodbye to the Summer Sale 2019, but before that we've brought back every deal from the past week at their lowest price for a final 24 hours. So if you've missed something from earlier in the week then today is your last chance to grab it! Only just found out we've got a sale? Get up to speed and take a look at guides from earlier in the week to help navigate over 1,900 offers!
Remember to check the Summer Sale Page as it features all offers from the sale with over 1,900 titles on discount right now! Sale ends August 12th at 1am PDT / 9am BST / 10am CEST.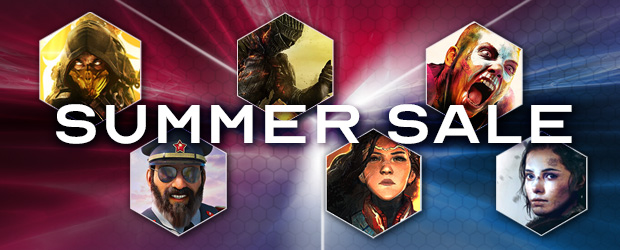 Day 1 Deals included:

Devil May Cry 5 for 44% off, Borderlands: The Handsome Collection for 90% off, Yakuza 0 for 53% off, Assassin's Creed Odyssey - Gold Edition for 62% off, LEGO DC Super-Villains for 67% off and Call of Juarez: Gunslinger for 64% off!
Day 2 Deals included:

HITMAN 2 for 64% off, DRAGON BALL FighterZ for 78% off, XCOM 2 for 76% off, Fallout New Vegas: Ultimate Edition for 75% off, DiRT Rally 2.0 for 58% off and WarGroove for 42% off!
Day 3 Deals included:

DOOM for 67% off, BioShock: The Collection for 76% off, Golf With Your Friends for 38% off, BATTLETECH for 69% off, Warhammer 40,000: Dawn of War - Master Collection for 77% off and Velocity Ultra Deluxe for 91% off!
Day 4 Deals included:

Mortal Kombat 11 for 34% off, Sid Meier's Civilization VI - Gold Edition for 71% off, Prey for 80% off, Sonic Mania for 68% off, Enter the Gungeon for 50% off and Stealth Inc 2: A Game of Clones for 74% off
Day 5 Deals included:

RESIDENT EVIL 2 / BIOHAZARD RE:2 for 42% off, Batman: Arkham Collection for 79% off, Ori and the Blind Forest: Definitive Edition for 55% off, GRAND THEFT AUTO V: PREMIUM ONLINE EDITION for 60% off, Little Nightmares: Complete Edition for 72% off and One Finger Death Punch 2 for 46% off!
Day 6 Deals included:

Monster Hunter: World for 56% off, Two Point Hospital for 52% off, Dying Light - Enhanced Edition for 71% off, RAGE 2 for 53% off, Supraland for 42% off and Starbound for 42% off!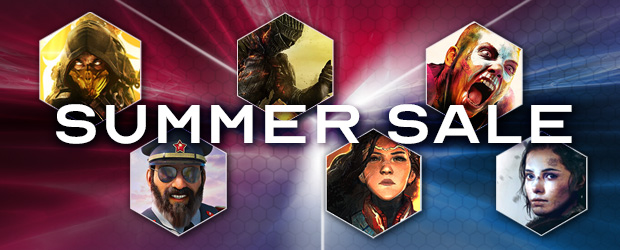 The Summer Sale ends on August 12th at 1am PDT / 9am BST / 10am CEST so you have until then to pick up your games on sale before they go back to their regular non sale price. As always we hope that everyone has managed to get some great titles this Sale and we're looking forward to doing more with you later this year, and remember. Winter is Coming ;)
From everyone at Gamesplanet we bid you a farewell and look forward to seeing you in the Winter Sales!