03 November, 2019 – CraigB

GP Team
Red Dead Redemption 2 - Everything you need to know!
Saddle up and explore the wild west when Red Dead Redemption 2 comes to PC on November 5th. Get up to speed with the game in our handy recap guide while you wait!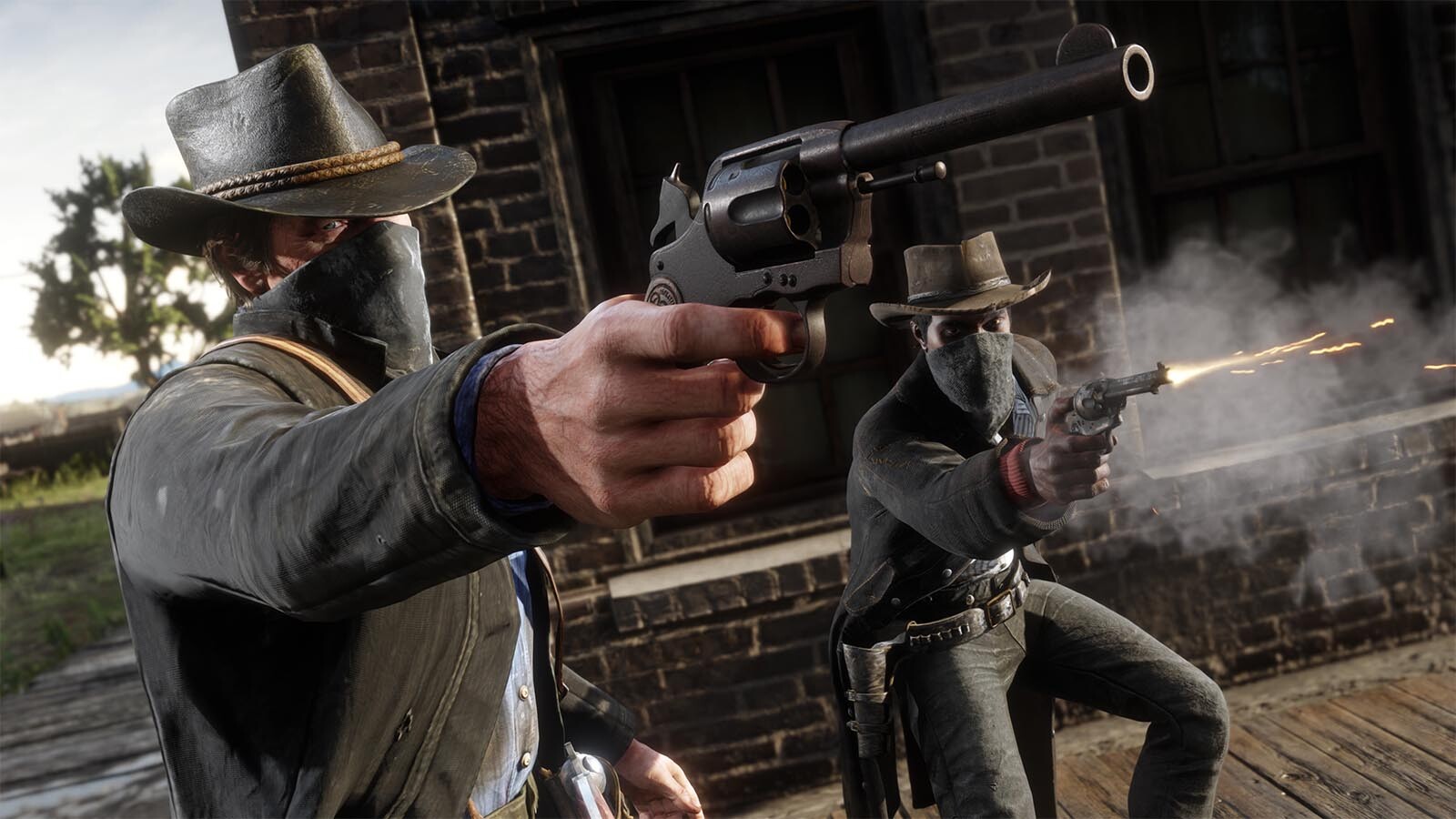 What is Red Dead Redemption 2?
Red Dead Redemption 2 is open world wild west action sequel from Rockstar Games, who are best known for their work on Grand Theft Auto. Originally released in 2018 for Xbox One and PS4, the game sees you playing as Arthur Morgan, a member of the Van der Linde gang who are forced to go on the run from the law. Unlike most sequels, this one actually takes place prior to the events of the original Red Dead Redemption and you'll meet a variety of characters - including the return of original protagonist John Martson and his family.
Like GTA 5 before it, players can explore a massive open world filled with activities. Ride around on horseback, or take a train to fully immerse yourself in this breathtaking world. Go fishing, hunt animals and more with plenty of rare beasts to find within the wild west. You can even trade rare beasts in for rewards at a trader, giving you access to new outfits and trinkets that give extra traits. Become a force for good or evil depending on your playstyle. You can rob stage coaches, help local folk with their side activities or help Van der Linde gang with their troubles.
The game features an expansive single player story, which can last upwards of 60+ hours (or more depending on how much you want to complete). The world itself is filled with swamps, snowy peaks, great lakes and forests that are each a joy to behold. It's not all about gun-slinging, you're also able to enjoy a spot of poker, hunt for treasure and even find hidden secrets located throughout the map. Use a variety of weapons from pistols, to shotguns or even rifles to take on enemies that stand in your way. You can also use a trusty rope to capture those who try to escape you and bring them to justice, or herd some cattle.
There's also the inclusion of Red Dead Online, which allows you to create your own custom character and takes place 1 year prior to the events of the single player story. Free roam the world, setup camps and work with others to take on bounties, play poker, or even fight it out amongst each other with the various deathmatch modes.
The PC Version will also be the best version of the game to date, with unlocked framerates, higher resolutions, HDR support, improved textures for grass and fur, multi-monitor support, increased view distance and much more! You'll also get extra bonuses for PC, including new weapons, horses, trinkets, gang hideouts, treasure maps and bounty hunter missions for single player.
If you've yet to experience the wild west, or you're a returning player then Red Dead Redemption 2 on PC will give the ultimate experience. Worth playing if you're a fan of western games/movies or you've previously played the fantastic Grand Theft Auto 5!
Red Dead Redemption 2 Trailer Recap
Looking for a recap on all Red Dead Redemption 2 trailers, gameplay videos and other videos you've missed? We've put together a playlist for all that below!
Red Dead Redemption 2 PC Launch Times
Prepare for release by preloading the game right now. Players will need at least 110 gigs of HDD space in order to download Rockstar's open world sequel on PC. Though the final game may be much larger once installed and you should aim to have more free just in case.
Preload: - Available Now!
Launch Time: - November 5th at 5am PDT / 1pm GMT / 2pm CET
Red Dead Redemption 2 PC System Requirements
Ride into the sunset when Red Dead Redemption 2 launches on November 5th. Not sure if your PC can run the game? Take a look at the PC System Requirements needed to run the game. As always we'd recommend making sure you have the latest drivers for your Graphics Card to ensure the smoothest experience at release - AMD / Nvidia.
Minimum:
OS: Windows 7 - Service Pack 1 (6.1.7601)
Processor: Intel Core i5-2500K / AMD FX-6300
Memory: 8GB
Graphics Card: Nvidia GeForce GTX 770 2GB / AMD Radeon R9 280 3GB HDD
Space: 150GB
Sound Card: DirectX compatible
Recommended:
OS: Windows 10 - April 2018 Update (v1803)
Processor: Intel Core i7-4770K / AMD Ryzen 5 1500X
Memory: 12GB
Graphics Card: Nvidia GeForce GTX 1060 6GB / AMD Radeon RX 480 4GB HDD Space: 150GB
Sound Card: DirectX compatible
Red Dead Redemption 2 PC Version Comparison
Not sure which version of Red Dead Redemption 2 is right for you? Take a look at our handy version comparison guide to decide!
| Red Dead Redemption 2 | Standard Edition | Special Edition | Ultimate Edition |
| --- | --- | --- | --- |
| Main game (Rockstar Key) | | | |
| 25 Gold Bars Pre-order bonus | pre-order | pre-order | pre-order |
| Bank Robbery Mission & Gang Hideout | | | |
| Dappled Black Thoroughbred (Horse) | | | |
| Talisman & Medallion Gameplay Bonuse | | | |
| Gameplay Boosts | | | |
| Cash Bonuses & Discounts | | | |
| Nuevo Paraiso Gunslinger Outfit | | | |
| Free access to additional weapons | | | |
| Bonus outfits for your online character | | | |
| Rank bonuses (online) | | | |
| Black Chestnut Thoroughbred (Horse/Online) | | | |
| Free access to the Survivor Camp Theme (online) | | | |
Get extra Gold when you pre-order any version
No matter which version of Red Dead Redemption 2 you purchase from Gamesplanet, Standard, Special or Ultimate Edition, you'll get an extra 25 gold bars with your pre-order if you purchase before November 5th.
Problems with Red Dead Redemption 2? We're here to help!
Getting a new game is an awesome experience and we want to make that as trouble free as possible, so we've put together a guide of common troubleshooting problems and FAQ's to help you out with Red Dead Redemption 2 on PC. You can find our Help Topic here. You can also reach us via help@Gamesplanet.com