19 June, 2018 – CraigB

GP Team
The Crew 2 - Standard/Deluxe/Gold Version Comparison
Looking to get The Crew 2 on Gamesplanet? Then take a look at our handy guide as we break down each piece of content included in the PC version as we compare the Standard, Deluxe and Gold versions of the game.
When it comes to selecting a version of a game to purchase, it can be a little tricky to navigate the bonus minefield - but all is not lost as we're on hand to provide you with a detailed guide to help you make your decision as we compare the Standard, Deluxe and Gold Editions of The Crew 2 on PC!
Legendary Motors Pack Pre-order Bonus (included with all pre-orders)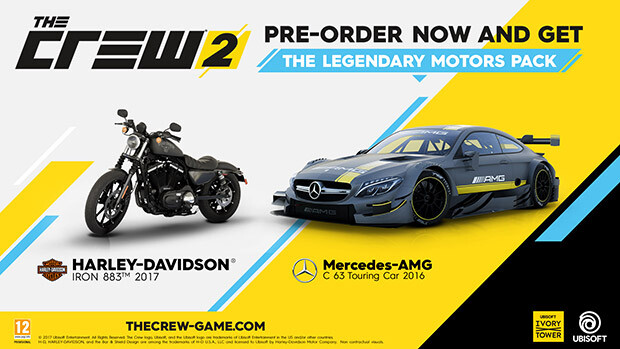 If you pre-order any version of the game at Gamesplanet you will get The Legendary Motors Pack for free which includes the following drivable vehicles:
Harley Davidson Iron 883TM 2017
Mercedes-AMG C 63 Touring Car 2016
Motorsports Deluxe Pack (included in Deluxe and Gold Editions)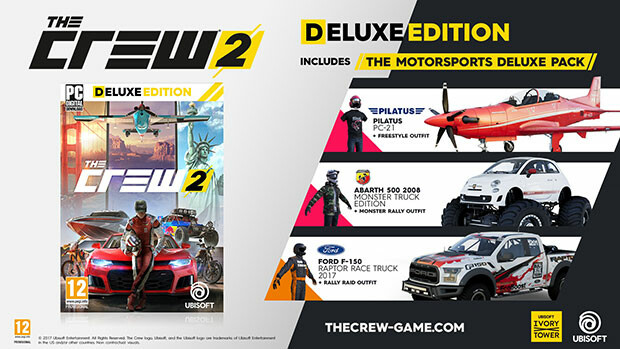 Should you want even more you can get the Deluxe Edition of the game which includes Motorsports Deluxe Pack and features the following vehicles + 3 outfits to customise your character with:
Ford F-150 Raptor Race Truck 2017
Abarth 500 2008 Monster Truck Edition
Pilatus PC-21
3 outfits to customize your avatar
You can also get the Motorsports Deluxe Pack with the Gold Edition.
Gold Edition Content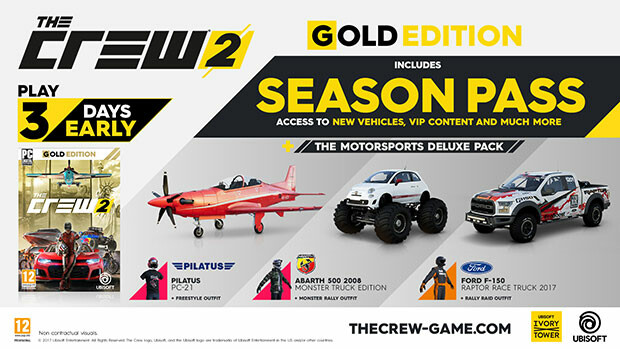 Those looking to get the ultimate experience for the game can pickup the Gold Edition of the game, which includes all the above DLC packs (Motorsport Deluxe and Legendary Motors) as well the Season Pass and a 3 day early access to allow players to start their journey on June 26th.
A 3-day early access
The Crew 2 Season Pass
The Crew 2 Motorsports Deluxe Pack
The Season Pass will feature a permanent 20% discount to the in-game store to help you get even more vehicles for your collection, an exclusive home to showcase your collection and 2 exclusive outfits. Players who get the Season Pass can look forward to 7 day early access to 22 future vehicles. You will also get 3 exclusive vehicles at launch:
Supermarine - Spitfire MK IX – 1942
ICE MARINE - Bladerunner 35 2016
Porsche - 911 Turbo 3.6 1993
Version Comparison
| The Crew 2 Content | Standard | Deluxe Edition | Gold Edition |
| --- | --- | --- | --- |
| The Crew 2 Main Game | | | |
| Legendary Motors Pack | Pre-order | Pre-order | Pre-order |
| Motorsports Deluxe Pack | | | |
| Season Pass | | | |
| 3 Day Game Early Access | | | Pre-order |
The Crew 2 launches on June 29th 2018, or on June 26th if you pre-order the Gold Edition.