03 March, 2017 – CraigB

GP Team
Tom Clancy's Ghost Recon Wildlands PC Options Detailed and 4k Trailer
Ghost Recon Wildlands is almost upon us and just like For Honor, Ubisoft and NVIDIA are working together again to make the PC version the best it can be, with plenty of options to keep gamers happy.
As you'd expect the game will bring a ton of options, including some Nvidia techniques like HBAO+, Ansel Support, Volumetric Lighting and for the first time ever the game will also feature, Tuf Effects to bring the Grass Simulation to life in new and exciting ways.
Key Features
4K (UHD) and Ultra-wide 21:9 aspect ratio support
Resolution scaling between 50% and 200%
No FPS capping
Full SLI / Crossfire support (AFR-friendly)
Multi-monitor advanced support, customized menus and HUD placement
Mouse and keyboard full support and UI adaptation
Input device auto-switch and extended gamepad support (DirectInput/XInput)
Auto-detection system for graphics options and VRAM gauge
Benchmark tool and visual preview feature
Nvidia Ansel support
The team have been working on feedback from the beta events and are ready to deliver an exceptional looking title, with countless video settings such as no FPS Limit, Full SLI / Crossfire support, Mouse and Keyboard improvements and more!
Display Options
Multi-monitor support, including main viewport selection and a display selection feature
Window modes (exclusive full-screen, classic window, and borderless full-screen)
Resolution selection with multi-aspect ratio support
Resolution scaling (0.5x to 2.0x) - allowing the increase of the game's internal rendering resolution while keeping the user-selected display resolution
Multiple refresh rate values & V-Sync
Framerate limiters (from 30 to 120 with intermediate values, or completely off)
Extended FoV for 3rd person cameras (0 to 100% based on scene FoV) & more.
Graphic Options
Graphic Presets (Low, Medium, High, Very High, Ultra and Custom)
Shadow quality (which sets the resolution and filtering of all shadows in the game -> Off, Medium, High, and Very High)
Texture quality (terrain detailing through the application of tessellation/displacement mapping - Low, Medium, High, and Very High)
Godrays (light beaming through foliage and other gaps in geometry)
Lens Flare (simulating the real life effect appearing when light reflects off of a camera lens)
Anti-aliasing (smoothing edges, transparent textures and particles, increasing graphic fidelity for both low and high resolutions -> Off, FXAA, Temporal AA)
Ambient Occlusion (creating shadows based on two or more intersecting objects -> Off, Ubisoft's SSBC, NVIDIA HBAO+) & more (including Terrain Quality, Texture Quality, Anisotropic Filtering, Motion Blur, Iron Sights DoF, etc.).
You'll be able to play on a wide range of systems, if you're not sure you're able to run the game though you can check out the System Requirements topic for more info!
Adjustable PC Controls
Advanced keyboard and mouse experience:

Customizable controls
Alternate control scheme
Separated input contexts (driving, drone, etc.)
Multiple keyboard layouts

Native support of most popular controllers (including but not limited to Microsoft Xbox & Sony PlayStation gamepads) as well as XInput and DirectInput controllers.
Plug & Play support: auto-switch to latest input device used
Customized control (input sensitivity and hold vs. toggle)
Controls with Keyboard and Mouse have also been tweaked on PC to make them ideal for gamers who prefer using it over a gamepad, with fully rebindable keys, alternative control schemes and more. If you're the gamer who still likes to use a pad then don't worry as Ubisoft have you covered and will support a range of controllers at launch including:
Microsoft Xbox 360
Microsoft Xbox One (Original/Elite)
PlayStation 4 (Original/Pro)
Steam controller
Other pads may also work but are not officially supported.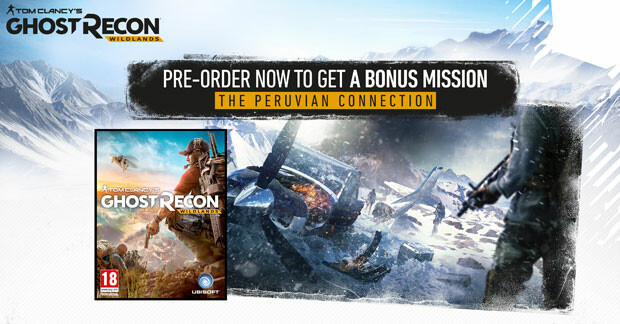 Tom Clancy's Ghost Recon Wildlands is releasing on March 7th, you can preload the game today and be ready to go when this open world action shooter hits PC with a bang! Pre-order today to receive The Peruvian Connection bonus mission for free!