06 March, 2017 – CraigB

GP Team
Ghost Recon Wildlands - Everything you need to know!
Ghost Recon Wildlands will see you taking back Boliva from the Santa Blanca Cartel and as we countdown the hours until release, you can take a look at our recap of everything you need to know with Wildlands before you jump in to the game later tonight!
What is Ghost Recon Wildlands?
In Ghost Recon Wildlands you will play as a group of highly trained specialists known as "Ghosts" and it'll be your job to take down the Cartel to stop the spread of corruption in Bolivia. The game will offer single player and coop with up to 4 players working together or if you're playing solo then you will get some AI to help you out. As an open world action game you're free to explore massive wide open spaces and tackle objectives as you see fight, maybe you'd prefer a stealth mission and stay away from setting off alarms? You can do just that! Want to go in guns blazing and blow everyone away? That's also an option as the game features an impressive lineup of weapons and gadgets that would make James Bond jealous.
The Wildlands Open World will offer a wide array of varied regions such as tropical plains, snowy mountain regions and deserts for you to explore from either the ground in cars and bikes, or via the air in helicopters or parachuting! As with most open world games it's entirely up to you how you get around the world and what you do.
Ghost Recon Wildlands Trailer Recap
Want to get up to speed with the game before you jump in? We've compiled a set of trailers/videos for the game into one handy playlist to help you learn more about the game before you play!
Ghost Recon Wildlands Trailer Recap
Launch Times for Ghost Recon Wildlands
If you've pre-ordered the game on Uplay (or purchsed from us to activate on Uplay) then you will be able to play from 23:00 GMT / 00:00 CET tonight as the servers open at 00:00 per region. This applies to the PC version of Ghost Recon Wildlands, as well as the PS4 and Xbox One versions of the game. Should you have the Steam version of the game then you will sadly have to wait until 6am GMT / 7am CET to play.
Game will be playable at 23:00 GMT / 00:00 CET
Day One Patch Required
Even if you have pre-loaded Ghost Recon Wildllands you will still need to grab a Day One patch for the game as soon as it's released, as yet there is no word on how big the file size will be but we'd imagine it would be a few gigs of data (possibly 2 or less). Be prepared for a wait though!
Tom Clancy's Ghost Recon Wildlands PC System Requirements
Minimum (Blurred Face):
CPU: Intel Core i5-2400S @ 3.3 GHz or AMD FX-4320 @ 4 GHz
GPU: GeForce GTX 660
VRAM: 2GB
RAM: 6GB
OS: Windows 7 SP1, Windows 8.1, Windows 10 (64-bit versions only)
HDD: 50GB free space
---
Recommended (Scarface):
CPU: Intel Core i7- 3770 @ 3.5 GHz or AMD FX-8350 @ 4 GHz
GPU: GeForce GTX 1060 or GeForce GTX 970
VRAM: 4GB
RAM: 8GB
OS: Windows 7 SP1, Windows 8.1, Windows 10 (64-bit versions only)
HDD: 50GB free space
Input Methods Supported by Ghost Recon Wildlands
Gamepad Support
Mouse and keyboard
Microsoft Xbox 360
Microsoft Xbox One
Microsoft Xbox One Elite
PlayStation 4 (Original/Pro)
Partially Supported Gamepads (May Require Third-Party Drivers)
Any third-party Xbox-compatible controller
Logitech Chillstream
Ouya controller
Steam controller
PlayStation 3 controller
Ghost Recon Wildlands Version Comparison
Ghost Recon Wildlands offers 3 different editions available: Standard, Deluxe and the Gold Edition, each with their own set of bonuses. In order to keep an overview of all versions, we've put together a comparison between each to work out which version is best suited for you!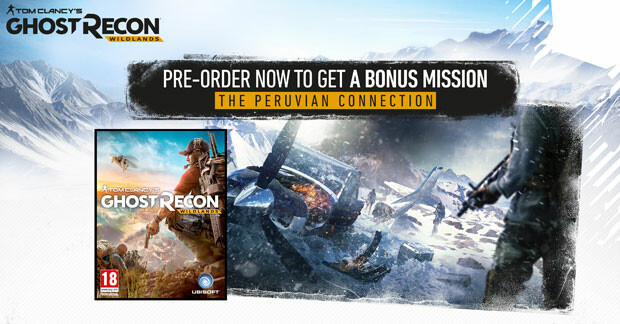 The Peruvian Connection Pre-order Bonus
If you pre-order any version of Ghost Recon Wildlands you will receive The Peruvian Connection Bonus mission for free!
Season Pass
The Unidad Conspiracy missions: Players will work to break down and destabilize the alliance between Santa Blanca and Unidad in the Media Luna province.
The Peruvian Connection pack: Players will be able to play through the Peruvian Connection mission as well as receive seven gear patches.
Rebellion Ghost Pack: Players can don an outfit inspired by the brave Katari 26 rebels. They will also unlock a unique AK-47 equipped with a bigger magazine and customized with unique engraving work.
Unidad Ghost Pack: Players dominate enemies with an Unidad outfit so they can attack Unidad camps dressed just like one of them. They will also unlock a unique Unidad LMG weapon, customized with the colors of Unidad, and equipped with a red dot scope and a larger magazine.
Santa Blanca Ghost Pack: With a Santa Blanca-inspired outfit, players can mimic their style without joining their ranks. This pack also unlocks the Santa Blanca golden M1911, customized with engravings and the mark of the cartel, for players to unleash chaos on the cartel.
Exclusive vehicle: Bolivian Minibus
Plus owners of the Season Pass will also receive a permanent 5% XP booster as well as a one time use booster that allows the player to gain 50% XP and 25% XP for his team that lasts for 2 hours.
Problems with Wildlands? We're here to help!
Getting a new game is an awesome experience and we want to make that as trouble free as possible, so we've put together a guide of common troubleshooting problems and FAQ's to help you out with Ghost Recon Wildlands You can find our Help Topic here.
Problems & Solutions
FAQ