Dawn of War 3 - Multiplayer Open Beta Begins today at 6pm BST!
Unleash the dogs of war and prepare to lead your armies into battle this weekend!
War is almost upon us, today players around the globe will be able to dive into the Multiplayer Open Beta for the upcoming Dawn of War 3 that launches next week. From April 21 - April 24th you will be able to test out each of the 3 factions the game has to offer in intense games against opposing forces, play as either the Space Marines, Orks or Eldar in multiplayer matches.
In case you missed it you can get a 39 minute look at the multiplayer in action so you can get some handy tips on how to setup your armies to win the battle!
To signup for the beta just head to the Official Site here and register to play the beta later today (you will need a Relic account) to play. Once you have that you can add the code to Steam and begin preloading the game so you can be ready to play when the servers go up at 18:00 BST today!
You will need at least 18.1 gigs of HDD space for the beta.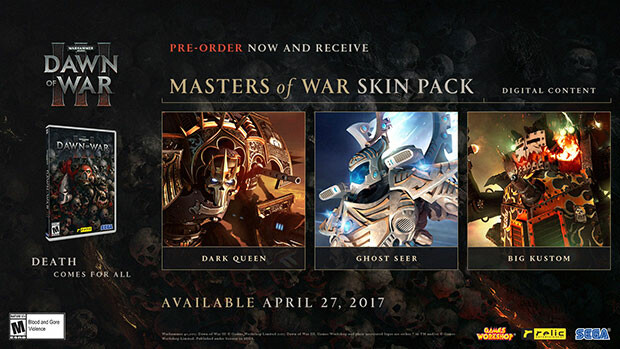 Dawn of War III will be available on April 27th, you can pre-order the game to get your key right away and the Masters of War Skin Pack for free when the game launches!