26 April, 2017 – CraigB

GP Team
Dawn of War 3 - Preload Now Available!
Only a day to go before you can finally jump in and experience an epic showdown between Space Marines, Orks and Eldar! You can now preload the game on Steam so you'll be ready to get into the action as soon as the game goes live tomorrow.
How to preload
1) Add your code to Steam
2) Select Warhammer 40,000: Dawn of War III in your Library and click Preload.
3) Decide where you want to install it and begin preloading!
Note: You will need at least 22.3 GB of HDD Space to Install the game (though it's recommended you have at least 50 GB according to the requirements of the game).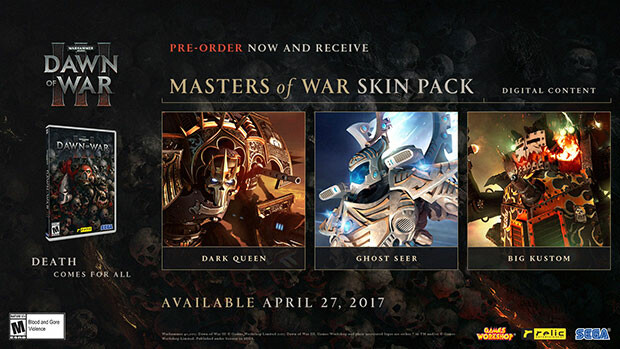 Remember, all pre-orders will come with the Masters of War Skin Pack for free! Dawn of War 3 will be releasing tomorrow, April 27th. As yet it's unclear the exact release time but we expect it to launch in just over 24 hours from now!
We shall update as soon as we learn an exact timing.