Description of Assassin's Creed Odyssey - Deluxe Edition
Buy Assassin's Creed Odyssey - Deluxe Edition for Ubisoft Connect at Gamesplanet.com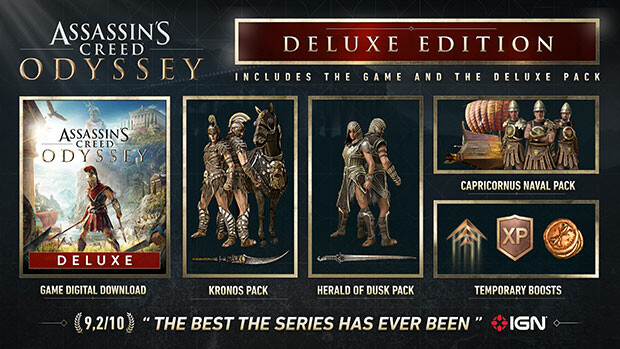 Upgrade your game experience with the DELUXE EDITION which includes the game and the Deluxe Pack.
The Deluxe Pack  includes:
The Kronos Pack (Including 5 epic pieces of armour, 1 epic weapon, 1 epic mount)
The Herald of Dusk Pack (Including 5 rare pieces of armour, 1 rare weapon)
The Capricornus Naval Pack (Including 1 ship design, 1 crew theme)
1 Temporary XP Boost
1 Temporary Drachmas Boost
---
Choose your fate in Assassin's Creed® Odyssey.
From outcast to living legend, embark on an odyssey to uncover the secrets of your past and change the fate of Ancient Greece.
TRAVEL TO ANCIENT GREECE
From lush vibrant forests to volcanic islands and bustling cities, start a journey of exploration and encounters in a war torn world shaped by gods and men.
FORGE YOUR LEGEND
Your decisions will impact how your odyssey unfolds. Play through multiple endings thanks to the new dialogue system and the choices you make. Customize your gear, ship, and special abilities to become a legend.
FIGHT ON A NEW SCALE
Demonstrate your warrior's abilities in large scale epic battles between Athens and Sparta featuring hundreds of soldiers, or ram and cleave your way through entire fleets in naval battles across the Aegean Sea.