Description of Atelier Ryza 3: Alchemist of the End & the Secret Key Digital Deluxe Edition
Buy Atelier Ryza 3: Alchemist of the End & the Secret Key Digital Deluxe Edition as a Steam key at Gamesplanet.com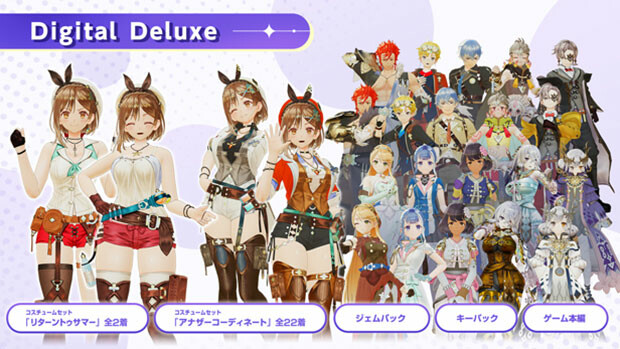 In this set:
The main game
"Another Look" Costume Set
A set of 22 costumes, 2 different color variations of the default character outfit for each of the 11 party members.
"Back to Summer" Costume Set
A set of 2 costumes for Ryza, namely the "Summer Adventure!" costume and "Sea Breeze Blouse" costume that were introduced in previous games.
Gem Pack
100,000 Gems that can be used for Item Duplication and other purposes. Gems become available as you progress through the game and learn "Duplication" or "Item Rebuilding" in the Skill Tree.
Key Pack
20 Pristine Keys that can be used for Key Creation and other purposes. Pristine Keys become available as you progress through the game.
Note: Costumes can be changed in the "Changing Room" from the diary on the desk in the atelier. The respective character must be in your party. Please visit the official website for more information. Other editions featuring this product are also available for purchase. Please avoid making redundant purchases.
---
The story begins when a group of islands called Kark Isles appear near Ryza's—the protagonist's—hometown. Seeing this as a threat to their home, Ryza and her friends investigate the isles and discover ruins with a huge gate. Just as Ryza approaches the gate, a strange voice echoes in her head, telling her to reach the Code of the Universe. What is it that lies beyond the gate, and what does the "Code of the Universe" mean? In hopes of finding a way to save their home, Ryza and her friends set off on a great adventure that revolves around a Key and the roots of alchemy.
Explore a vast open field! In this title, multiple maps are connected seamlessly, allowing players to move between different areas without the loading screen transition. Enjoy exploring in a vast, living world with a greater degree of freedom.
A total of 11 party members! Reunite with characters from previous games and meet new key characters essential to the story. Embark on your adventure with a wide range of friends—one of the largest in the series.
Use the "Keys" with unknown powers to unlock various gameplay features! In the heart of this title will be the new "Key" system. Keys have various types and effects that can be used in exploration, synthesis, and combat. Make good use of them while adventuring to enjoy a more satisfying, smoother experience!