Description of BATTLETECH - Digital Deluxe Edition
Pre-order / Buy BATTLETECH - Digital Deluxe Edition as a Steam Key.
The Deluxe Edition of BATTLETECH provides exclusive content. Deluxe Edition includes: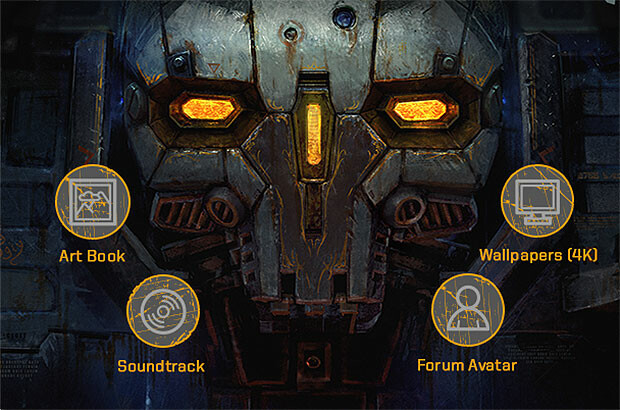 Base Game
Artbook
Wallpapers
Soundtrack
PDX Forum Icon / Avatar

---
---
Von dem ursprünglichen BattleTech/MechWarrior-Schöpfer Jordan Weisman und den Entwicklern der preisgekrönten Shadowrun Returns-Serie stammt die nächste Generation der rundenbasierten taktischen Mech-Kämpfe.
Wir schreiben das Jahr 3025 und die Galaxie ist in einem Kreislauf des ewigen Krieges gefangen, der von noblen Häusern mit riesigen, mechanisierten Kampffahrzeugen namens BattleMechs geführt wird. Übernimm das Kommando über deine eigene Söldnertruppe von `Mechs und den MechWarriors, die sie steuern, und kämpfe darum, über Wasser zu bleiben, während du in einen brutalen interstellaren Bürgerkrieg hineingezogen wirst. Verbessere deine Sternenbasis, verhandele Söldnerverträge mit Feudalherren, repariere und unterhalte deine Sammlung alternder BattleMechs und setze verheerende Kampftaktiken um, um deine Feinde auf dem Schlachtfeld zu besiegen.
Features
BEFEHLIGE DEINE TRUPPE VON MECHS IM RUNDENBASIERTEN KAMPF:
Setze über 30 BattleMechs in einer Vielzahl von Kombinationen ein. Benutze Terrain, Positionierung, Waffenauswahl und Spezialfähigkeiten, um deine Gegner zu überlisten und auszuspielen.
MANAGE DEINE SÖLDNERFIRMA:
Rekrutiere, passe an und entwickele einzigartige MechWarriors. Verbessere und individualisiere dein Dropship. Überwache dein Team von Technikern, Ingenieuren und Supportmitarbeitern.
NIMM AN EINEM VERZWEIFELTEN BÜRGERKRIEG TEIL:
Tauche ein in die Geschichte eines gewaltsam abgesetzten Herrschers und führe einen brutalen Krieg, um deine Thron mit der Unterstützung deiner Söldnertruppe zurückzuerobern... wenn du dich dafür entscheidest, sie zur Verfügung zu stellen.
PASSEN DEINE `MECHS AN:
Verwende dein MechLab, um deine Einheiten zu warten und aufzurüsten und beschädigte Waffensysteme durch Schlachtfeldbergung von gefallenen Gegnern zu ersetzen.
KÄMPFE DICH DURCH DIE PERIPHERIE:
Als Söldner reist du durch ein weites Feld, nimmst alle Arten von Missionen an und verteidigst deinen Ruf bei einer Vielzahl von Adelsgeschlechtern und lokalen Fraktionen.
PVP MULTIPLAYER & SKIRMISH-MODUS:
Passen Angriffslanze von Mechs und MechWarriors an, um gegen deine Freunde anzutreten, online gegen Gegner zu spielen oder in den Einzelspieler-Scharmützel-Modus zu springen, um deine Strategien gegen die KI zu testen.
read more…