Description of Gangs of Sherwood - Lionheart Edition
Buy Gangs of Sherwood - Lionheart Edition as a Steam key at Gamesplanet.com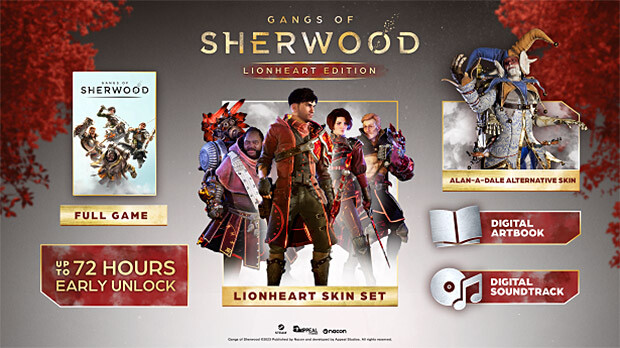 Get the most from your adventure in Gangs of Sherwood with the prestigious Lionheart Edition. Includes:
Lionheart Skin Set: Proudly sport the colours of King Richard the Lionheart in your crusade against the usurper oppressing England. This set contains 4 exclusive outfit, armour and weapon designs for the game's heroes.
Alan-a-Dale Alternative Skin: The band's minstrel and puppeteer has more than one costume up his sleeve. He will look his best each time you meet during the adventure and in your hideout.
Digital Artbook: Dive into the science-fantasy world of Gangs of Sherwood by leafing through this booklet full of exclusive illustrations of the game and details about the revisited legend.
Digital Soundtrack: Listen to the game's soundtrack whenever you want.
---
Gangs of Sherwood is an explosive action game for 1 to 4 players set in the reimagined world of Robin Hood.
Through the powers of the Philosopher's Stones, the armies of the Sheriff of Nottingham are now stronger than ever, and the people of England have never been so oppressed…
LEAD THE REBELLION
Play as Robin, Marian, Friar Tuck or Little John, four heroes with unique, fully customizable gameplay styles, and set out in search of riches to plunder so you can give them to the poor. From Sherwood Forest to the Sheriff's flying castle, the way forward is blocked by hordes of enemies. Combine the different heroes' combat styles to foil the tyrant's plans and fight performance-enhanced soldiers, formidable war machines and terrifying bosses that you meet as you advance.
ROB THE RICH TO GIVE TO THE POOR… AND TO EQUIP YOURSELF!
Improve your reputation by saving innocent lives and giving your loot to the people in order to unlock new upgrades and even more devastating combos. Spend your remaining gold with merchants to upgrade your equipment and customize your skills to match your combat style.
CO-OP ACTION FOR UP TO 4 PLAYERS
Land more and more impressive combos and cooperate with the other members of your team to achieve ultra-satisfying combos. Meet up with your friends in your hideout and determine the best strategy to adopt before setting off on missions, then put it to the test on the field of battle.