Description of Tom Clancy's Rainbow Six Siege - Deluxe Edition
Buy Tom Clancy's Rainbow Six Siege - Deluxe Edition for Ubisoft Connect at Gamesplanet.com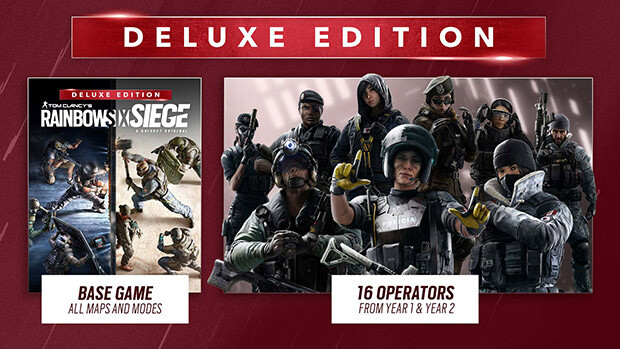 Tom Clancy's Rainbow Six® Siege Deluxe Edition contains:.
The full game (all maps and modes)
All 16 operators from Year 1 and Year 2
"One of the best first-person shooters ever made. 10\10" – GameSpot
Tom Clancy's Rainbow Six® Siege is an elite, realistic, tactical team-based shooter where superior planning and execution triumph. It features 5v5 attack vs. defense gameplay and intense close-quarters combat in destructible environments.
Choose from over 60 operators, each with unique gadgets and customizable weapon loadouts. Outthink your opponents by breaching walls, floors, and windows, or lie in wait with deadly traps.
Tom Clancy's Rainbow Six Siege is constantly expanding: each season brings new content, in-game events, and more.