14 February, 2019 – CraigB

GP Team
Far Cry: New Dawn - Everything you need to know!
Take a trip on the wild side as we get up for the launch of Far Cry: New Dawn later tonight. Get up to speed with the game in our handy recap guide while you wait!
What is Far Cry: New Dawn?
Far Cry: New Dawn takes place 17 years after the events of Far Cry 5 in a post-apocalyptic Hope County that has been changed forever. Nuclear fallout has made a more vibrant setting with plenty of wildlife and changes to plants. Nothing you remember will be the same. You'll emerge from the wastes and have to rebuild your way back up as you band together with a group of survivors to tackle the dreaded highwaymen and their leaders, the Twins. Much like the previous game, you'll be exploring a rich world full of activities and taking down enemy outposts. This time around the outposts have changed and you can either scavenge resources and more on, or setup base which will force the highwaymen to eventually attack. After which you can try to take the location back for even better rewards.
Customisation plays a key role in the game and you can modify your weapons and vehicles to your liking, with various paint styles and even upgrade them to deal more damage. Each weapon and vehicle is upgradable and you'll need to upgrade to deal with some of the tougher challenges of Hope County. Guns for Hire also make a return, with some returning favourites and newcomers lending their services to you in your hour of need. The game also offers some new tools to deal with enemies, including a powerful saw-blade launcher that when upgraded can take out most foes with ease.
Players will work with survivors as they build their base of prosperity, a settlement made up of survivors. As you progress you'll be able to unlock more powerful weapons and vehicles. Hiring specialists will allow them upgrade your base for new gear, fast travel options and more. There's also a variety of RPG elements in the game, from looting to minimum level requirements and even new skills, which have been expanded upon this time with additions such as double jumping. The game also introduces "Expeditions", that are small chunks of gameplay that take place in separate locations such as swamp-lands, or even an abandoned theme park. These can be played solo or with friends in co-op.
Far Cry: New Dawn Trailer Recap
Looking for a recap on all Far Cry: New Dawn trailers, gameplay videos and other videos you've missed? We've put together a playlist for all that below!
Far Cry: New Dawn PC Launch Times
Players will be able to play the game later tonight when Far Cry: New Dawn launches at 11pm GMT / 12am CET (Feb 15th). All customers will be able to preload the game immediately after purchasing the game from Gamesplanet.
Preload: Available now!
Launch Time: February 14th at 23:00 GMT / 00:00 CET (February 15th)
Far Cry: New Dawn PC System Requirements
Make sure your system is up to the task of running the game with the PC System Requirements for Far Cry: New Dawn. We'd also recommend making sure you have the latest drivers for your Graphics Card to ensure the smoothest experience at release - AMD / Nvidia.
Far Cry New Dawn PC Version Comparison
Not sure which version to get? Take a look at our comparison table to help you decide! Those who purchase the the Deluxe Edition will be able to get the Hurk Legacy and Knight Packs, which contain extra weapons, vehicles and outfits.
| Far Cry: New Dawn | Standard | Deluxe |
| --- | --- | --- |
| Main Game via Uplay | | |
| Unicorn Trike Skin | Pre-order | Pre-order |
| Hurk Legacy Pack | | |
| Knight Pack | | |
| M133M Shotgun | | |
| RAT4 Rocket Launcher | | |
Anyone who pre-orders the game from us will get the Unicorn Trike Skin for free.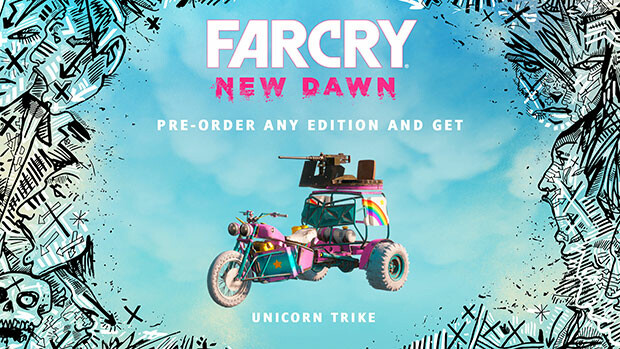 Problems with Far Cry: New Dawn? We're here to help!
Getting a new game is an awesome experience and we want to make that as trouble free as possible, so we've put together a guide of common troubleshooting problems and FAQ's to help you out with Far Cry: New Dawn on PC. You can find our Help Topic here.