11 February, 2018 – CraigB

GP Team
Kingdom Come: Deliverance: Everything you need to know!
Swords will clash and shields will break when Kingdom Come: Deliverance launches on February 13th. Get a quick recap with our handy guide while you wait.
What is Kingdom Come: Deliverance?
Kingdom Come: Deliverance is an upcoming medieval Action RPG from Warhorse Studios which puts you in the boots of Henry, Son of the Blacksmith. Much like other Action RPG games such as The Witcher 3 or Skyrim, Kingdom Come Deliverance offers players an extensive open world to explore as they progress in the story. You'll have a number of skills at your disposal such as Lockpicking, Horse Riding, Herbalism and Alchemy, plus stats like Strength, Agility, Vitality, Speech and Charisma with each having different levels of upgrade for you to obtain. Level your character the way you want, if you decide you prefer a Stealthy approach to situations you can do that, or maybe you want to fight enemies head on. The game will give you choice in everything you do. Quests will allow players to progress in multiple ways and depending on how you decide to do a mission it may impact future events and NPC reactions towards you so you'll always have a unique experience.
One of the big features of Kingdom Come Deliverance is the combat system - which will allow players to parry, block, counter and attack in 5 different ways. This will give encounters a unique approach as NPC characters may have different attack patterns and you'll to work out the best way to counter an enemy. Keeping an eye on your Stamina will be key to winning a fight, if you run out of stamina you will be unable to block and opens you up for attack. There will also be a number of weapons for you to use, such as Swords, Axes, Maces, Bows and more. The game also has an expansive voice cast in the game as well, such as the legendary Brian Blessed, Matthew Wolf (Titanfall 2/Dying Light/Kingdoms of Amalur), and even a few faces from the TV Series Britannia like Victoria Hogan, Abigail Rice, Sinead Phelps, Jennifer K Preston and more.
If you're a fan of open world RPG games or historic medieval games then Kingdom Come: Deliverance is looking to be one of the year's best open world action RPG games. You can pre-order the game right now to get your key ahead of the February 13th launch. Customers will also receive the Treasures of the Past DLC for free with their pre-order!
Kingdom Come: Deliverance Trailer Recap
Looking for a recap on all the Kingdom Come: Deliverance trailers, gameplay videos and other videos you've missed? We've put together a playlist for all that below!
Launch Times and Preload Info for Kingdom Come: Deliverance
The game launches on February 13th at 8am GMT / 9am CET. You can start preloading ahead of time, make sure to keep at least 35gigs of HDD space free for the game if you do!
Launch Time: February 13th at 8am GMT / 9am CET.
Kingdom Come: Deliverance PC System Requirements
Be sure to also make sure your system is up to the task of running Kingdom Come: Deliverance on PC, you can take a look at the system requirements for a list of minimum and recommend requirements required to play the game.
Kingdom Come: Deliverance Pre-order Bonus
Anyone who pre-orders a copy of Kingdom Come: Deliverance will receive the "Treasures of the Past" pack which includes unique Armor for Henry and locations to discover!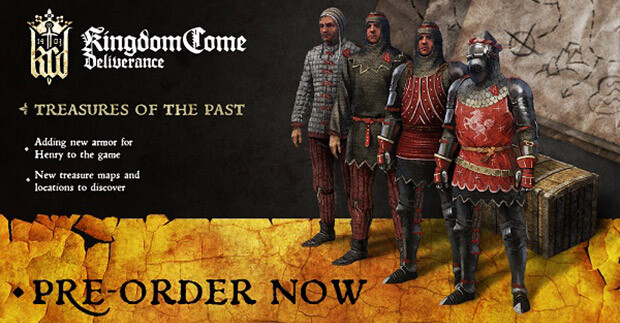 Problems with Kingdom Come: Deliverance? We're here to help!
Getting a new game is an awesome experience and we want to make that as trouble free as possible, so we've put together a guide of common troubleshooting problems and FAQ's to help you out with Kingdom Come: Deliverance. You can find our Help Topic here.