Mass Effect: Andromeda - Everything you need to know!
Set co-ordinates for a new galaxy and prepare to launch into a new world of space exploration as the Mass Effect franchise returns!
What is Mass Effect: Andromeda?
Mass Effect: Andromeda is the next entry in the Mass Effect franchise, and will be a separate story to the original games with a completely new galaxy to explore. You'll play as the Pathfinder, who journeys to the Andromeda galaxy after a 600 year cryo sleep to setup the Nexus, which will be the "Hub" for all life in the Andromeda galaxy. As soon as you arrive in Andromeda you'll be met with perils as a new enemy emerges and it'll be up to you to fight back and save the new galaxy. Players can pick either Scott or Sarah Ryder as they start, each one can be customised to suit your personal needs.
Much like previous entries in the Mass Effect saga you'll be playing a third person cover shooter, but this time you're given new tools to help combat. One of the biggest new additions is the jetpack which will give a verticality element to the surroundings and offer new ways to explore the environments. Speaking of Environments it wouldn't be a Mass Effect game with planets, taking place a new galaxy you can expect some unique looking planets as you travel from volcanic worlds to desert plains and more.
Space travel wouldn't be complete without your own ship and this time Ryder will get the Tempest ship, it's fast, agile and more than capable of holding it's own in a battle. From here you'll be able to travel to other planets, scan for resources, research new upgrade and take a little downtime in your personalised quarters. Since you have a whole galaxy to explore it can be a little overwhelming first starting out, but you're free to tackle missions as you see fit (with more options being opened up later).
Planets this time are much larger and filled with plenty of resources that you can use to upgrade weapons, plus each one contains a number of quests. Some you may even discover while exploring so always keep an eye out for new things! With vast distances to explore you're going to need a set of wheels to get around them, fortunately you can get the Nomad early on which allows players to travel in dangerous areas and it can be upgraded to boost further or even jump gaps. It's the all terrain vehicle that you deserve.
As with other entries in the series, Mass Effect: Andromeda brings a wide range of powers and abilities that can be upgraded at will. This time you're even given "Profiles" which are custom sets of powers that can be customised on the fly to help you adapt to combat. Weapons you unlock will not be locked into one class either as everyone can wield everything!
There's also wave based multiplayer that you can play with others against AI, sadly there doesn't appear to be player vs player at present so if you're looking to do some team deathmatch this is not the game for you. It's mostly the same type of Gameplay from Mass Effect 3, but improved with further customisation plus it will allow you to unlock rewards in the game's Single Player.
Mass Effect: Andromeda Trailer Recap
Want to get up to speed with the game before you jump in? We've compiled a set of trailers/videos for the game into one handy playlist to help you learn more about the game before you play!
Mass Effect: Andromeda Trailer Recap
Launch Times for Mass Effect: Andromeda
The Mass Effect: Andromeda launch will be split into 2 regions which will dictate when the game is playable for people. If you're located in the USA, Canada, Latin America (except Brazil), Mexico, Russia or South East Asia the game will launch at the following times:
March 21st 00:00 AM EDT
March 20th 21:00 PM PDT
March 21st: 01:00 AM ART
March 21st 07:00 AM MSK
Korea will also have the game live at 00:00 in their region.
Meanwhile players in Africa, Australia, Brazil, Europe, Israel, Middle East and New Zealand can look forward to these times:
March 22nd 11PM GMT
March 23rd 00:00 AM CET
March 23rd 10:00 AM AEDT
March 23rd 20:00 PM BRT
March 23rd 01:00 AM IST
March 23rd 12:00 PM NZDT
If you're not the type of person who wants to wait until the release date you can start playing right away by subscribing to Origin Access, this will give you a 10 hour trial of the game which will let you experience the game before launch and if you buy the game it will allow you to continue the journey where you left off. Altneratively you could just play 10 hours of the game's multiplayer if you wish!
Note: This Origin Access Trial will be 10 hours of the game being open, if you want to save the time make sure to close the game when you're not playing it!
Mass Effect: Andromeda PC System Requirements
Mass Effect: Andromeda runs on the Frostbite 3 Engine and as such it will run on a variety of machines, to get the most of out if though we'd suggest meeting at least the recommended specs as there are some demanding areas which may cause older machines to struggle.
Mass Effect: Andromeda Minimum System Requirements For 1280x720
CPU: Intel Core i5-3570 or AMD FX 6350
GPU: GeForce GTX 660
RAM: 8GB
OS: Windows 7, Windows 8.1 or Windows 10 (64-bit versions)
HDD: 55GB free space
DirectX: Version 11
---
Mass Effect: Andromeda Recommended System Requirements For 1920x1080
CPU: Intel Core i7-4790 or AMD FX 8350
GPU: GeForce GTX 1060 3GB, or GeForce GTX 970
RAM: 16GB
OS: Windows 7, Windows 8.1 or Windows 10 (64-bit versions)
HDD: 55GB free space
DirectX: Version 11
Pre-order Bonus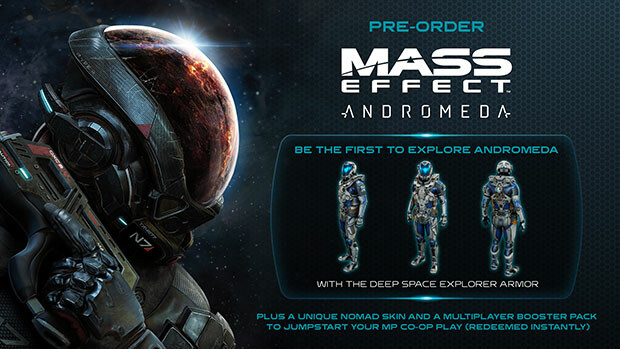 Anyone purchasing a copy of Mass Effect: Andromeda from us will receive the Deep Space Explorer Armour, a Nomad skin and a Multiplayer Booster Pack for free with your purchase!
Problems with Andromeda? We're here to help!
Getting a new game is an awesome experience and we want to make that as trouble free as possible, so we've put together a guide of common troubleshooting problems and FAQ's to help you out with Mass Effect: Andromeda You can find our Help Topic here.
Problems & Solutions
As soon as the game launches we'll be able to provide common issues to troubleshooting the game!
FAQ